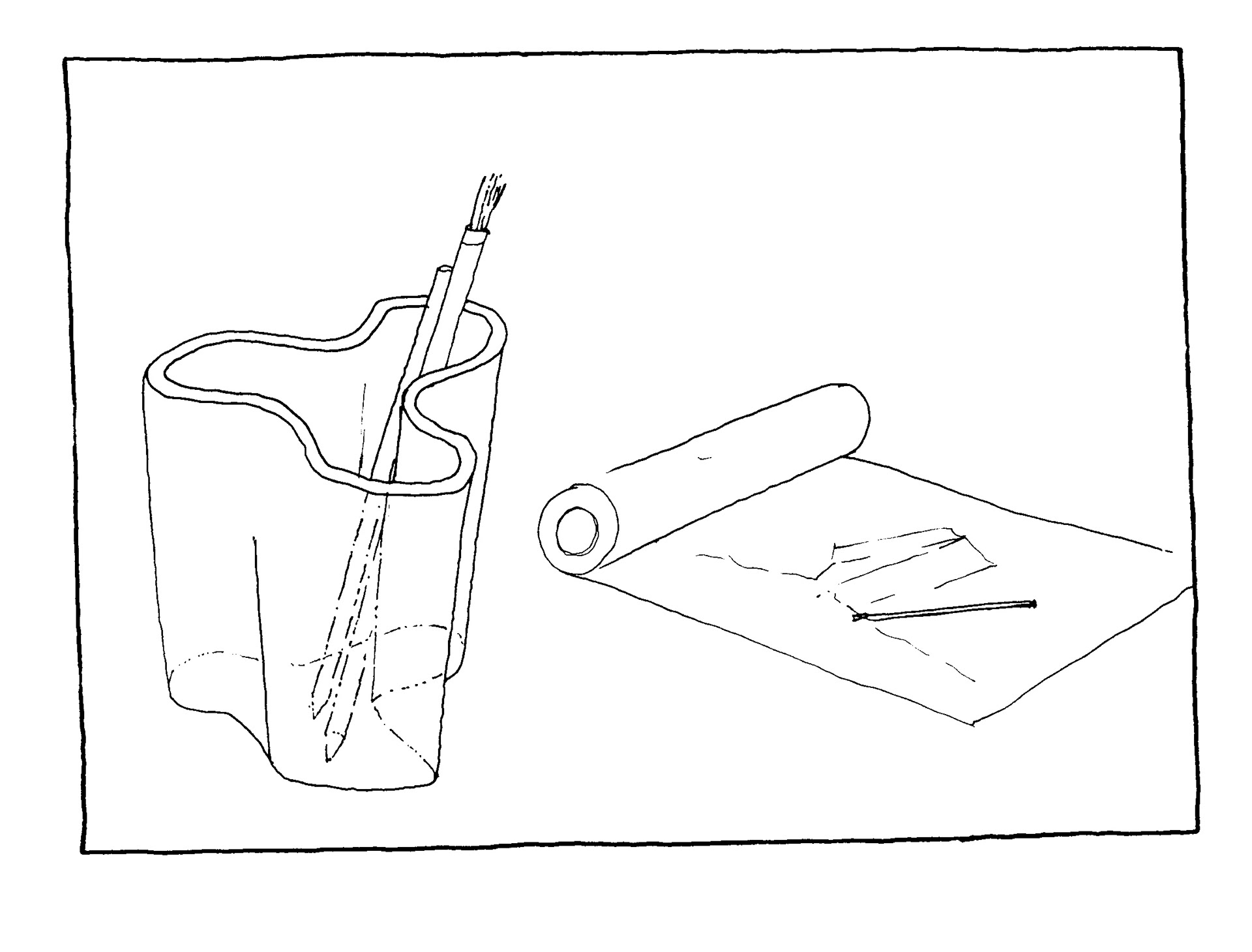 Below is m

y weekly blog on architecture, art, identity, PR and presentation. It has just started so these are the very first posts! To receive post alerts by mail, please subscribe using button below. 
Blog post: 31 May 2020

During "lockdown" lots of people are reorganising and sorting out old images, texts and other documents.  I have just filed my pre-Lockdown blog posts here:

They are organised by type. 
Looking back does feel like another time when we, of course, had little inkling of what was ahead of us.  I am not sure about calling our past "B-C" (before-COVID) as some do, but there's no doubt that COVID-19 has created a sense of then and now. 
I was very pleased to read that in Helsinki the plans for a new architecture and design museum are still being discussed and as a way to mark a hopeful post-pandemic era.  A welcome sign of the City's belief in a bright future.  
Blog post: 24 May 2020
I'll always remember way back around the year 2000, during the Millennium Bridge media crisis, Arup's reaction.  "Embarrassed but not ashamed", said the engineers as they reflected on the aftermath of the unexpected wobble in the Bridge.  Those working in communications will probably be following current events around the Covid 19 crisis and with great interest in how the pandemic is talked about and how short-comings are addressed by various Governments' spokespeople.
I have done so with a keen eye, looking particularly at how the UK and Finland are doing this.  In the UK, the Government comms teams have resorted more to branding style communication with what appear to be roadwork inspired graphics and catchy slogans, intended to be easy to repeat and remember. "Stay home" and so forth. In Finland, this sort of sloganeering would be deemed trite in this type of situation and politicians have instead sought to speak to people, resorting remarkably little to marketing tactics, but instead appealing to the nation's conscious and solidarity in a firm and uncompromising way. As in the UK, in Finland, too, there have been criticisms of lacking transparency around decision making.
A wobbly bridge seems far removed from the depths of the current Covid-19 crisis but Arup's response generated trust and respect in a way that all competent crisis communication should always seek to do. When something has gone wrong it is best to address it head on and not try and not make excuses in the hopes of covering your tracks.  It is also important to understand that even if in your view the substance is right, as it was in the case of the Bridge - the wobble was a matter of comfort not safety - perception matters.  As the Bridge was deemed to be potentially dangerous by public opinion, it was wise to address this issue rather than undermine it or get into an alternative narrative about how some motion might actually be a part of the experience of crossing the Thames.  (Especially with social media today, we now have plenty of opportunity to gain a broad range of views on how a crisis is handled and companies' or politicians' attempts to simply distract those affected are thus less likely to succeed.)
After some pressure from the media, the Finnish Prime Minister has agreed to make the COVID-19 proceedings public with a caveat that not everything will be available. In doing this, she is is demonstrating willing and concern about public opinion in an effort to generate trust.  Communication is not just about being right. It is about listening with empathy and meeting people half way, about finding common ground. Making things right or changing one's course of action, if done with care, certainly need not look defeatist or weak but quite the opposite.  Mistakes and how they are handled can be powerful ways to win people over, to establish trust.  So, yes, crisis communication can be an exceptional opportunity but it requires self-awareness, a dose of humility and some guts.  
Blog post: 17 May 2020
Following on from last week's post, I've been thinking more about how we improve our on-line experience of architecture.  Hand-drawing brings an immediate human presence to digital communication which is why I like to use it and have done so on my website.  
Apple is known for using graphic devices, like yellow pads, for digital notes to create the impression of physical, "real" things in a virtual world. Increasingly we have more personable sounding communication on-line, for example, as we process files a virtual cup of tea might appear and friendly message saying "we're on it".  
Those sorts of things are a cute and informal in a manner that makes on-line interaction more grounded and human. Hand drawing achieves this too whether it's a diagram on a screen or a work of art in its own right.   These things are really about engaging audiences by doing something slightly unexpected, something you may not readily associate with computers, something that feels less robotic. 
And, yes, it is this very notion of not appearing and sounding like a robot - a slick impersonal machine - that is often important to make the messaging impactful.  The care in the language and presentation used do matter and they should not be formulaic. In fact, imagination and ingenuity should be embedded in how architects' studios put together their websites or on-line project presentations or talks.  
Filmed project presentations and talks being made during lockdown are allowed to feel home spun now that we know most everyone is having to make do with their limited resources whilst working from home. But this amateurish feel can be a strength too, if it conveys an authenticity or an idiosyncratic quality with confidence. Perhaps these current do-it-yourself exercises should, in fact, be welcomed as an opportunity to explore styles of communicating that are less robotic and more original.
Blog post: 10 May 2020
Last week, I referred to my recent piece for the World Architecture Festival (below) on "Communicating in Isolation".   In it I mention the importance of thinking how we might improve the way the haptic qualities of architecture come across on-line.  I am thinking of the type of photography that conveys the feeling of inhabiting a space or the use of process imagery that helps explain the way a building has been conceived to someone who may not be able to visit it.  Drawings, in particular, are useful and hand drawings by architects are often imbued with character that reveals something very special about the design intent.  
In the AD I guest edited, Juhani Pallasmaa raises this issue of communicating the sensory qualities of architecture and a very interesting point about our experience of buildings, "Besides, as designers we are taught to be aware of only focused vision, but unfocused peripheral perceptions seem to have a more important role in our experience of spatial qualities, situations, atmospheres and feelings." This is something, too, that architecture studios should address and that could provide a compelling dimension to curating content on-line.  And perhaps we'll find that a series of meaningful glimpses can evoke much more than a conventional tell-all hero shot.
Blog post: 3 May 2020
Communicating in Isolation
Today as my blog post, I thought I would share with you a piece I wrote for the World Architecture Festival newsletter - published last week. 
It's about communicating when so much is on hold and we're working from home.
Drawing below by Alan Dunlop from his Lockdown Sketchbook, March - April 2020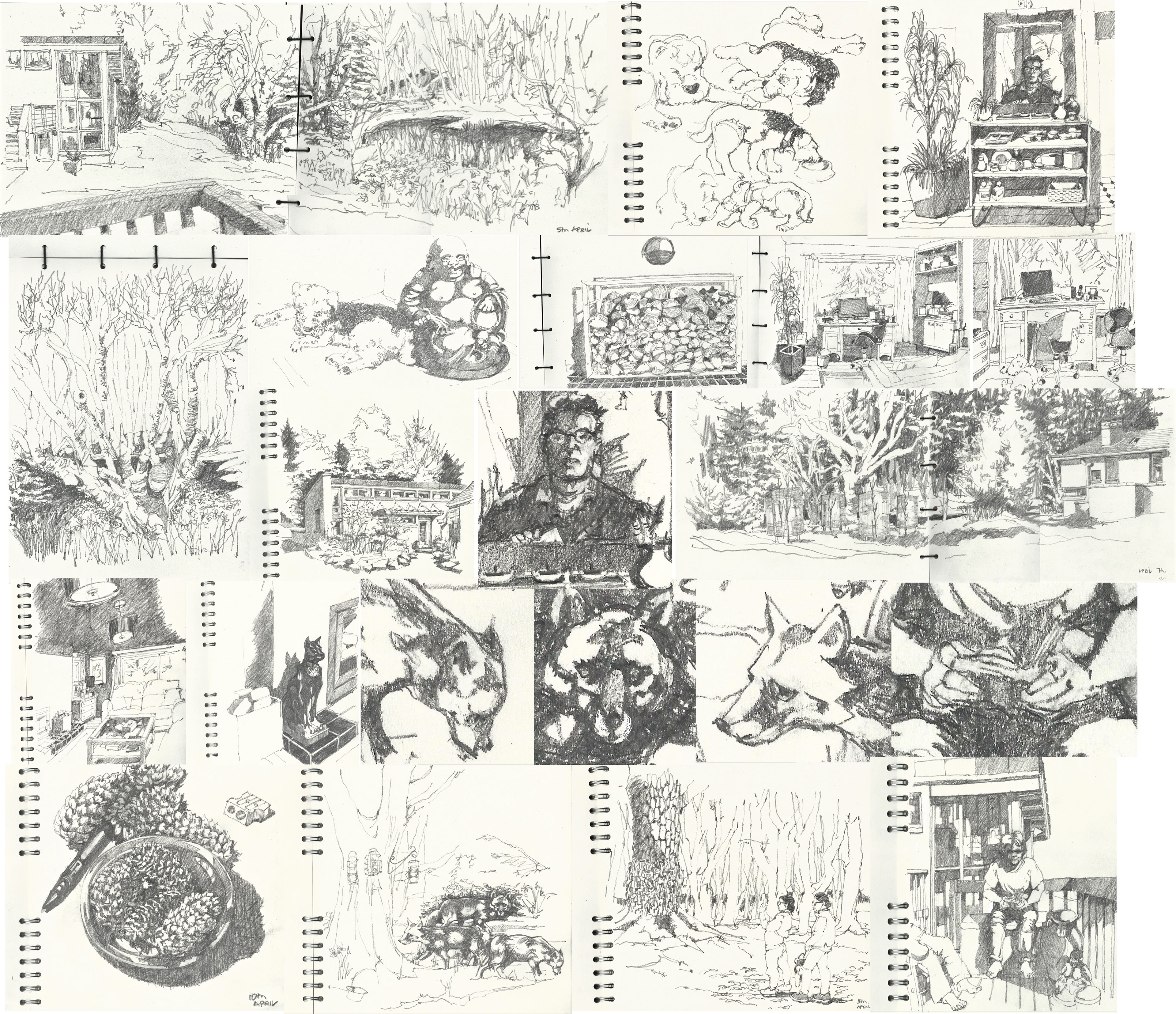 Blog post: 26 April 2020
"Is it just me or..." has become the way to pre-empt observations in an effort to sound like the "Tweep-next- door" in an informal, friendly, chatty manner. It doesn't take long for such insouciant language to be adopted by big business and, in the process, it loses something of its unrehearsed and spontaneous quality.  
So much of the current way of presenting things is based on this notion of looking and sounding "real" albeit being meticulously studied even to an angst ridden degree. This is well-known by Instagrammers who stage their holiday shots, spending more time on planning and styling these than living out "those carefree moments".
No wonder, it's been fun to see the far less contrived shots of "me at twenty" that have recently circulated on Twitter: #meat20.  I especially enjoyed the photo of Eddie Heathcote at the Trevi Fountain, noting how deserted this tourist hot spot was back then.  Youth doubled up with a nostalgia for a time when you could travel without getting up at 6AM to visit such sites to avoid the maddening crowds.  
The #meat20 photo of Helen Castle with her University of East Anglia chums resonated too, taking me back to a period when striking a pose just comes across as more natural, more innocent than it does in today's hugely image conscious society when the reach of such pics is potentially so much more widespread and less private.
As we continue social distancing, I wonder how we could ensure that our increasingly digital communication is less focussed on selling ourselves and more about connecting in a heartfelt fashion.  I don't mean wearing your heart on your sleeve kind of stuff, but perhaps toning down the snobberies that have crept in with appearing to "do lockdown" just so.  
The Private Eye cartoon below says something about this phenomenon...  And just to humblebrag a bit, if you need some bookshelf props, I have boxes of books in our garage that are looking for homes as our shelves are packed...   Saying that, maybe the next level of behind-the-scenes snobbery would be to just stack these books in piles in front of our cases, "a one up" from the ruly library look. 
Cartoon by Ken Pyne from Private Eye, 24 April - 7 May 2020 issue, p. 34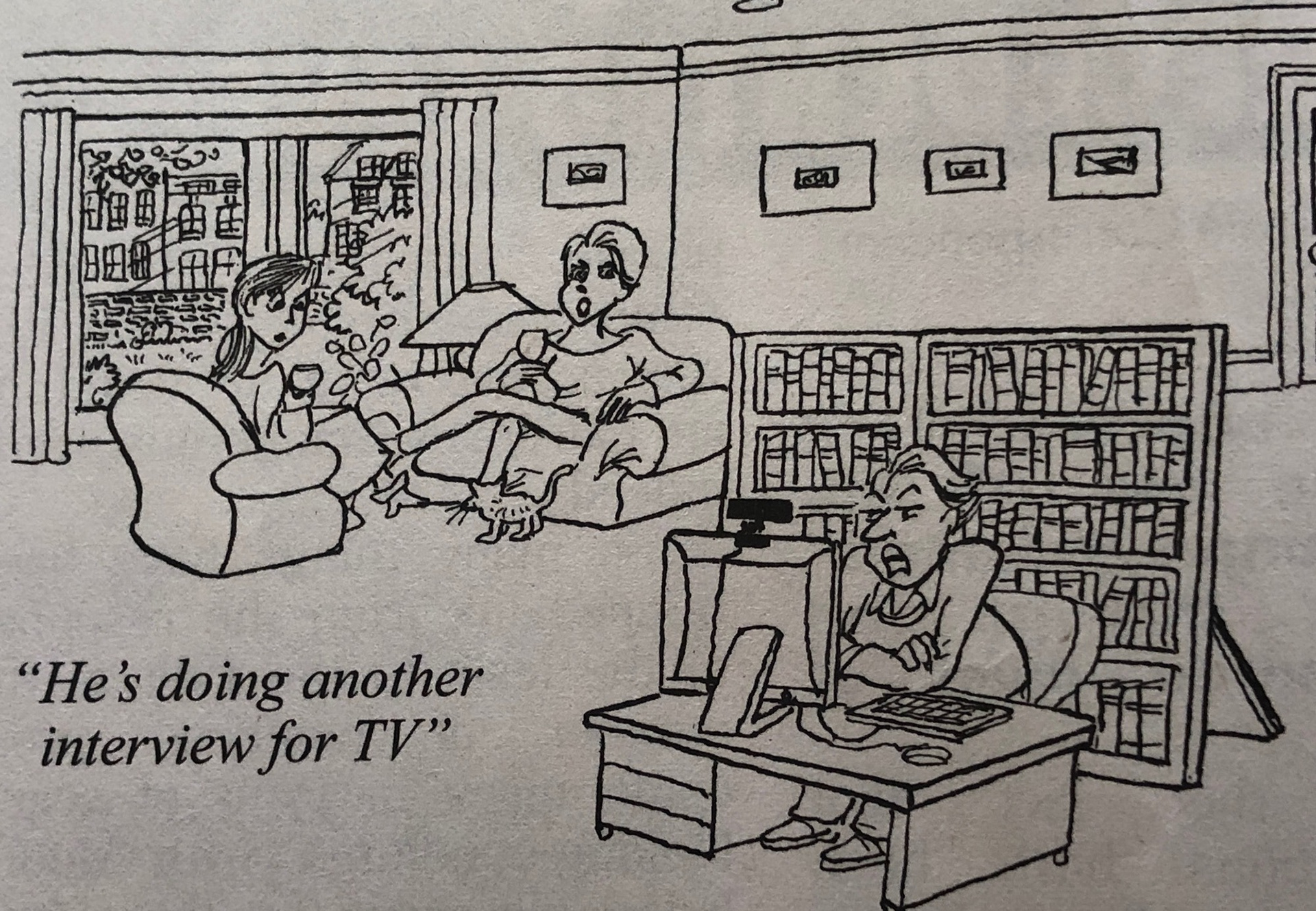 Blog post: 19 April 2020
The Art of Architecture Drawings
Very pleased that
Drawing Matter
has published this extract from the issue of AD that I guest edited at the end of last year on "The Identity of The Architect: Culture and Communication".  Written by
Gabor Gallov
, the extract focusses on the role of drawing at Allies and Morrison Architects:
Note Gabor has drawn the drawings featured elsewhere on this site.
Drawing below:
Alfredo Caraballo, Allies and Morrison, Sunnyside Yard, New York: Masterplan, 2017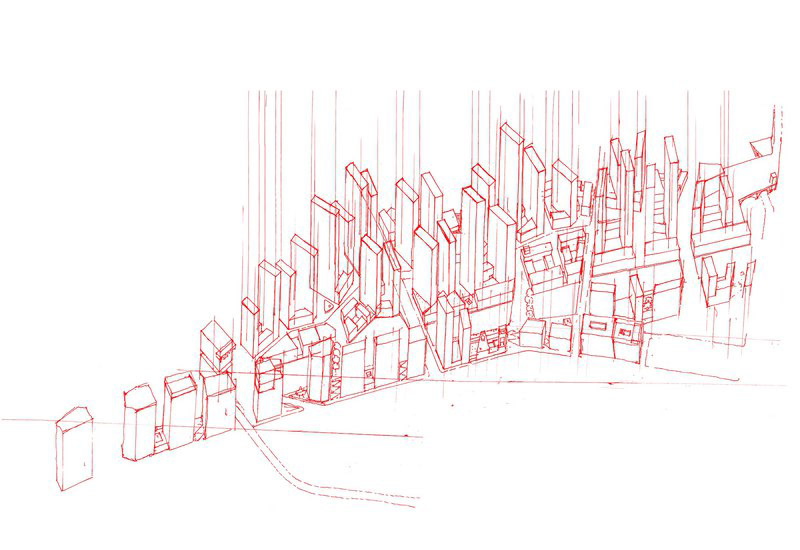 Courtesy of Allies and Morrison
Instead of my usual posts, I am asking readers of this blog to let me know if they are engaging in any interesting communications tasks during this isolation period that get around the challenges of social distancing.  
I am writing a piece for the World Architecture Festival on this very topic and am particularly interested in anyone supporting freelance writers, graphic designers and photographers during this challenging time. 
So many practices rely heavily on freelance assistance of this type for enhancing their profile and right now this largely self-employed group will rely on the good will of architects to keep them going. 
Please get in touch via my contact page before Tuesday 14 April.

Blog posts will resume after Easter.
Home-working has added a new dimension to our work personas.  A dimension that until now was, for most, a private world of domesticity, but has over the past weeks become an extension of our more public life with colleagues.  Even home offices have largely remained like secret dens until this current crisis - but no longer.  
When video conferencing it's natural to be curious about the background of someone's screen.  The things they have in their homes and whether these fit in with how we may have imagined someone to be when not in the office.  The unexpected instruments and so forth.
And with VC, it's a bit like having guests over. I admit to tidying my home office more these days and ensuring our dog sofa isn't quite as crumpled as usual.  Saying that, I have no problem with our dogs lying on it in full view while I am on a video conference call. 
Watching the news you see interviewees too regularly broadcasting from their homes.  Even before this current crisis, I enjoyed seeing French writers and philosophers interviewed from home with their stylish studies covered in books and pictures and interesting objects trouvés.  A wonderful mix of old and new things that, like the home of an artist, relays a boho-chic intellectual quality.
When living in Venice for a short period, on my evening walks, I would admire Italian homes with this quality as visible through their lit windows. Their rooms appeared to have an unstudied feeling of a life well-led that emanated years of occupation, layered with idiosyncrasies and warmth of personality.  Perhaps during our new found reliance on VC, it is such a very humane quality that resonates so well on our screens and particularly so in an era of social distancing when we hunger for all the richness and peculiarities that make for life.  
When racing around there's little time for reverie. This happens more easily when confined to one place. For many and around the world, this will be in their homes at the moment. 
Last year, I happened to work on a book with San Francisco based architect, John Marx that is conducive to reverie. Published by Oro Editions (February 2020) it is called 
Études – The Poetry of Dreams + Other Fragments
and focusses on John Marx's beautiful watercolours. The book also features poems by John Marx, in addition to chapters about drawing, watercolour and Marx's works within in the context of American painting. These chapters are written by by Curator Owen Hopkins, Architect and writer Pierluigi Serraino, and myself.  Marx, too, has written a very personal essay about the notion of sharing meaning.
You can find out more about the title
here
but below are some of Marx's watercolours that are extremely conducive to dreaming and contemplating.  Some of the works show poignantly how solitude can be both soulful and poetic.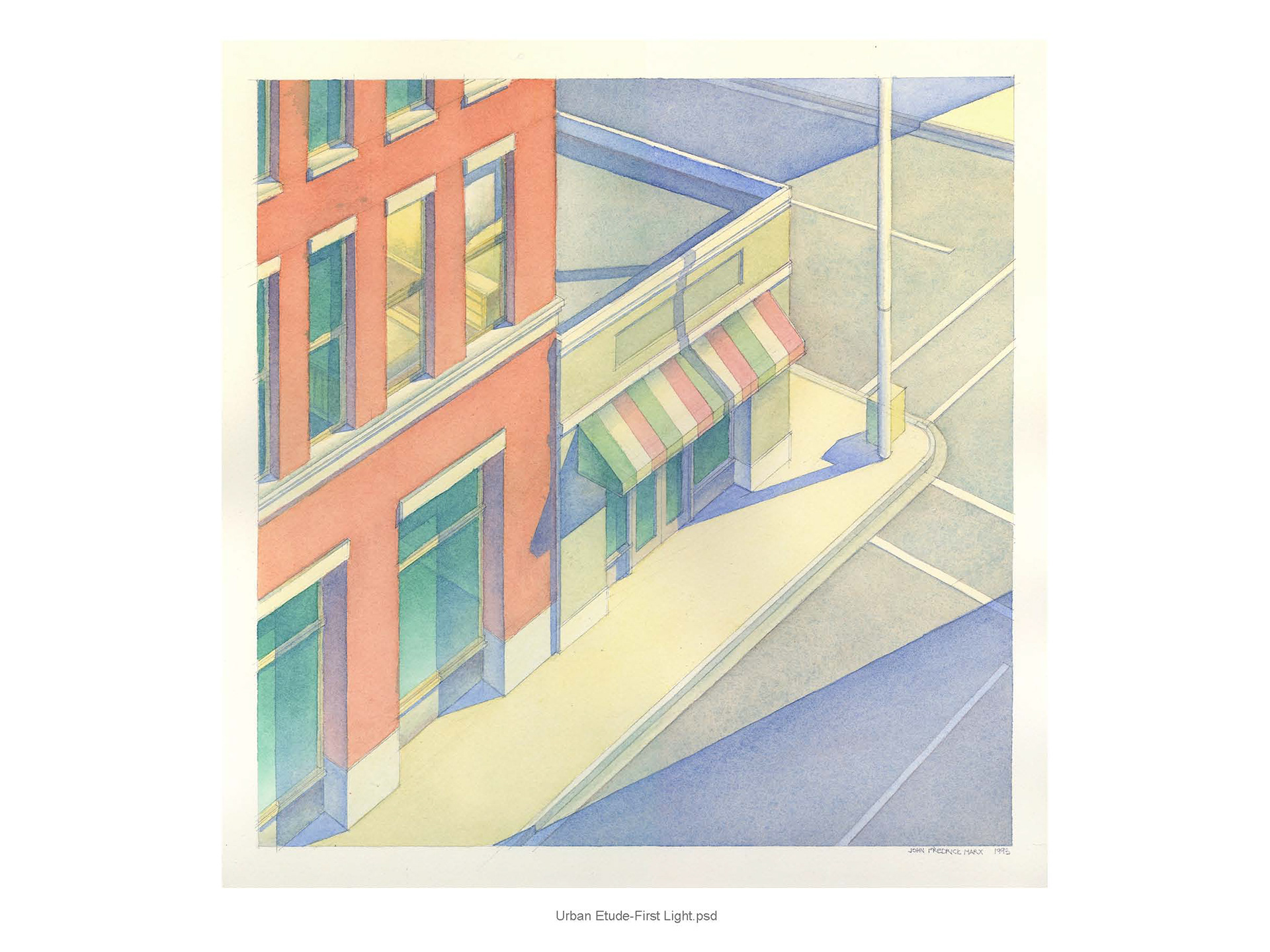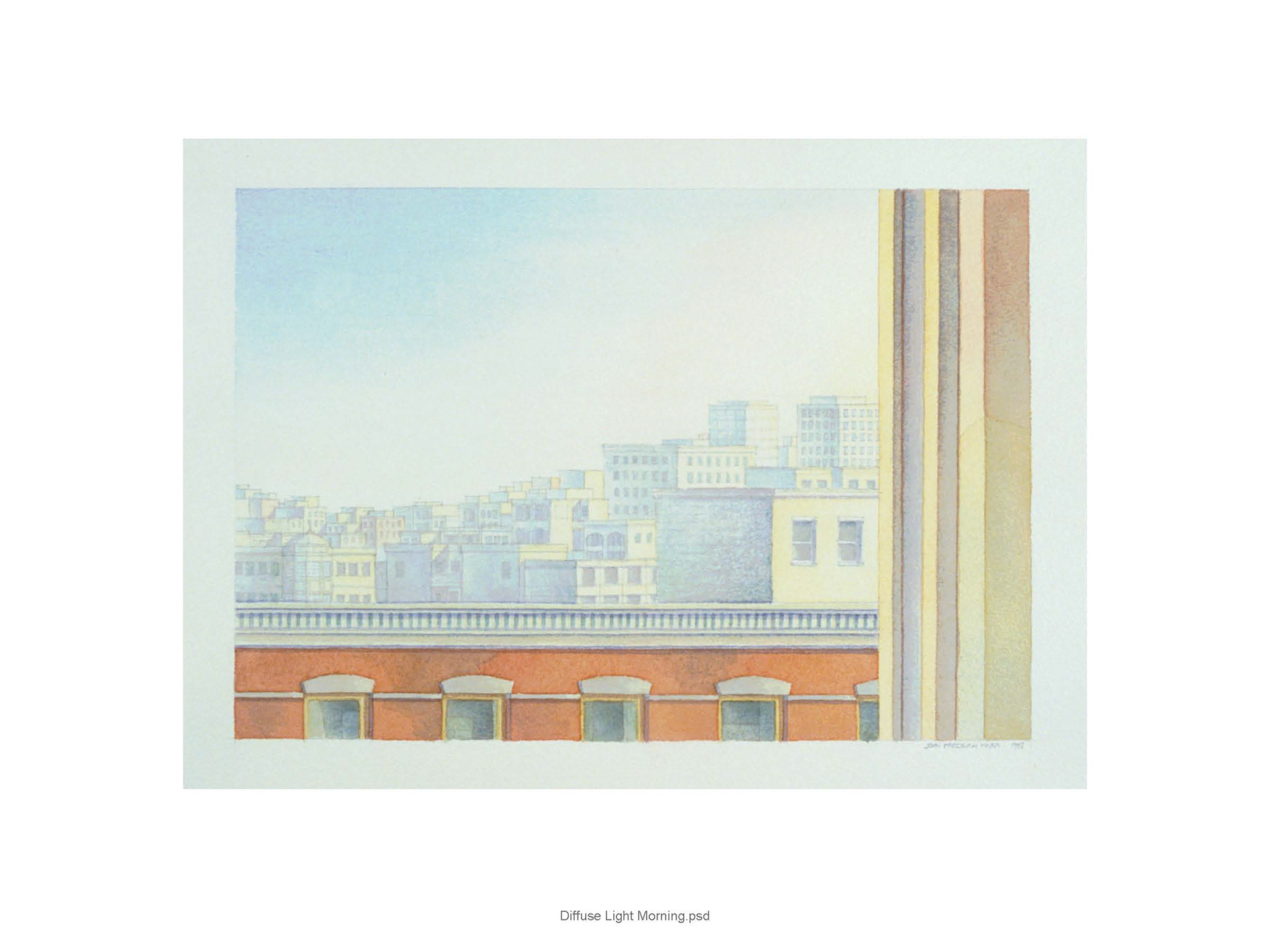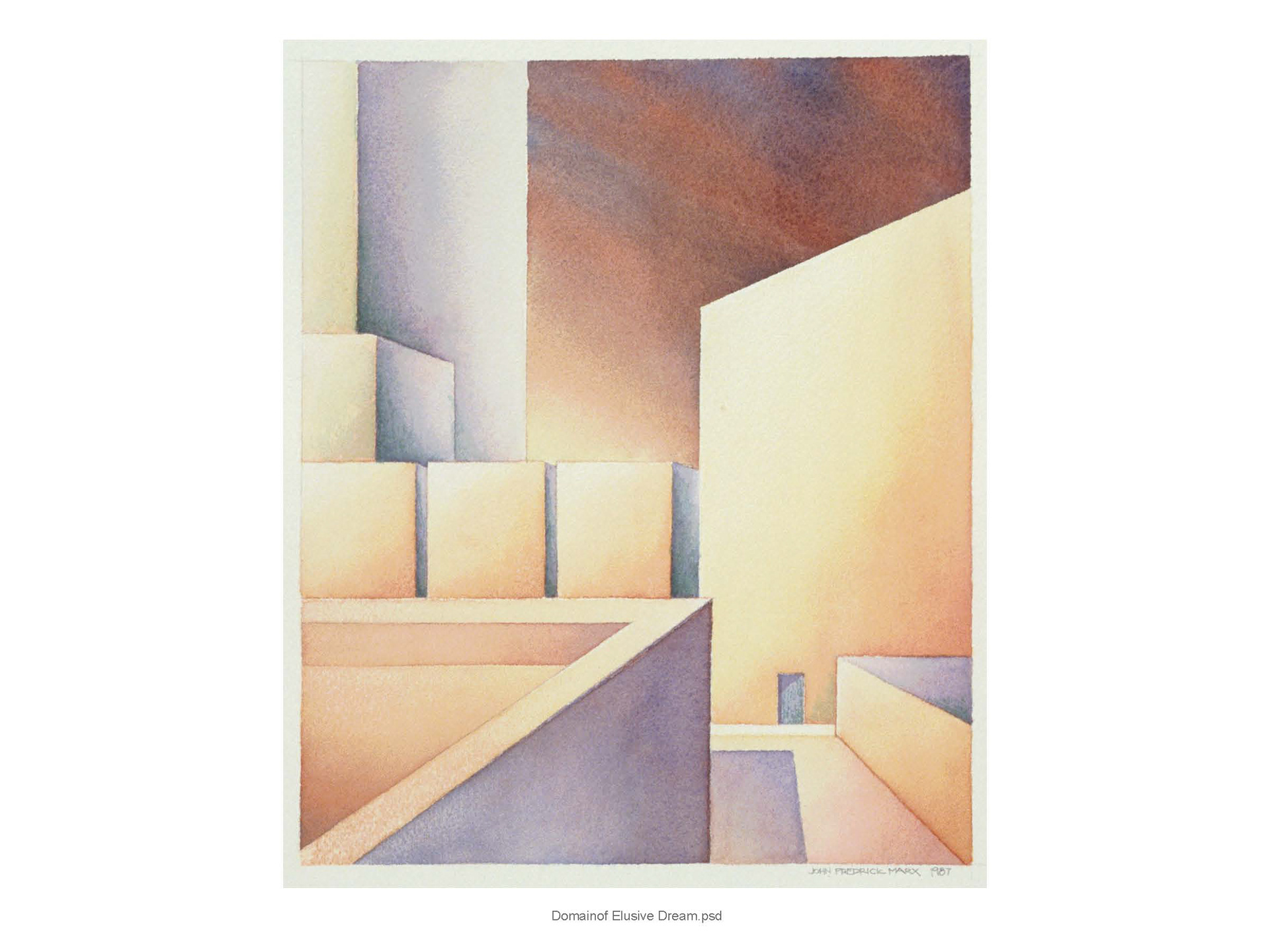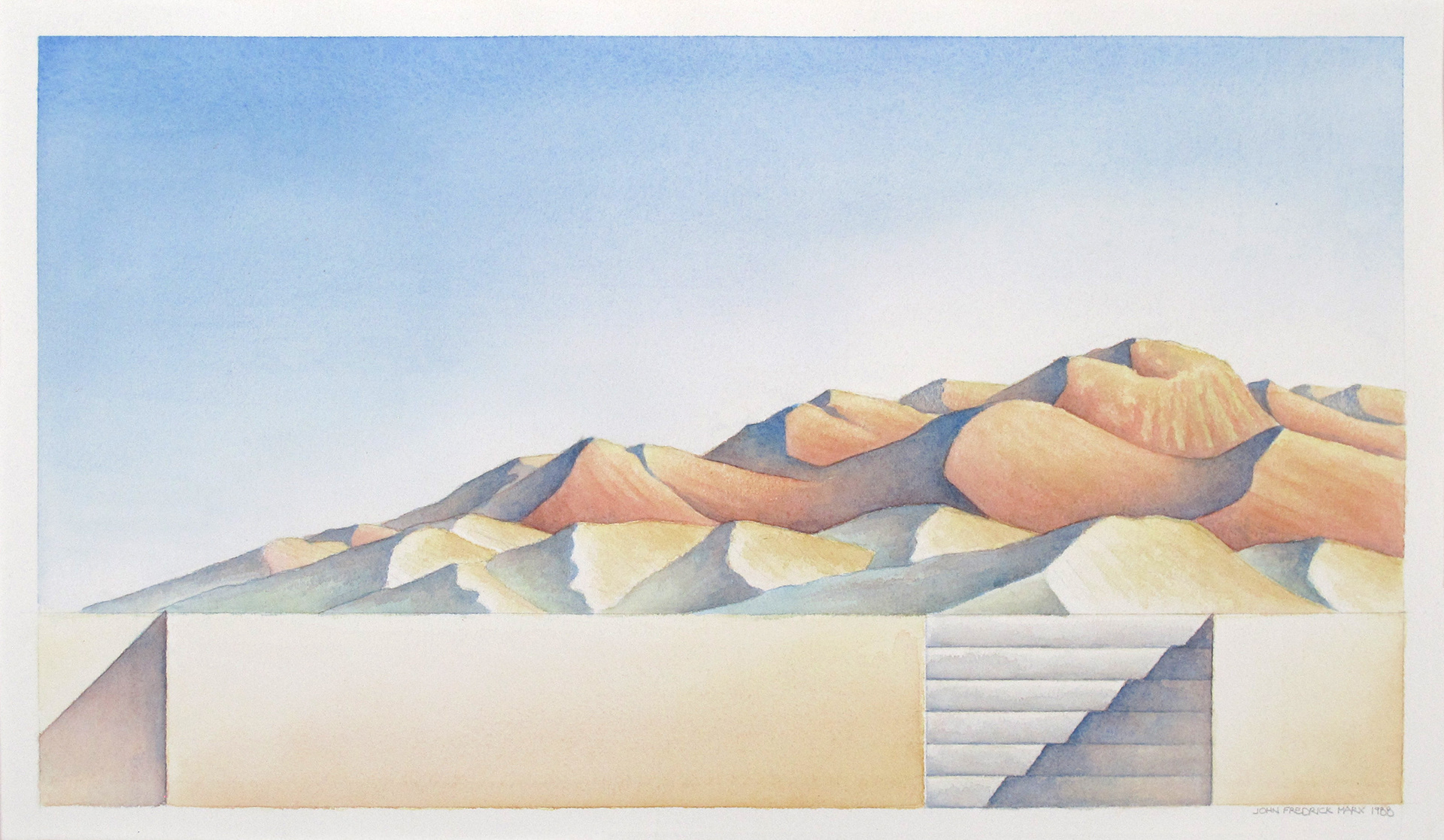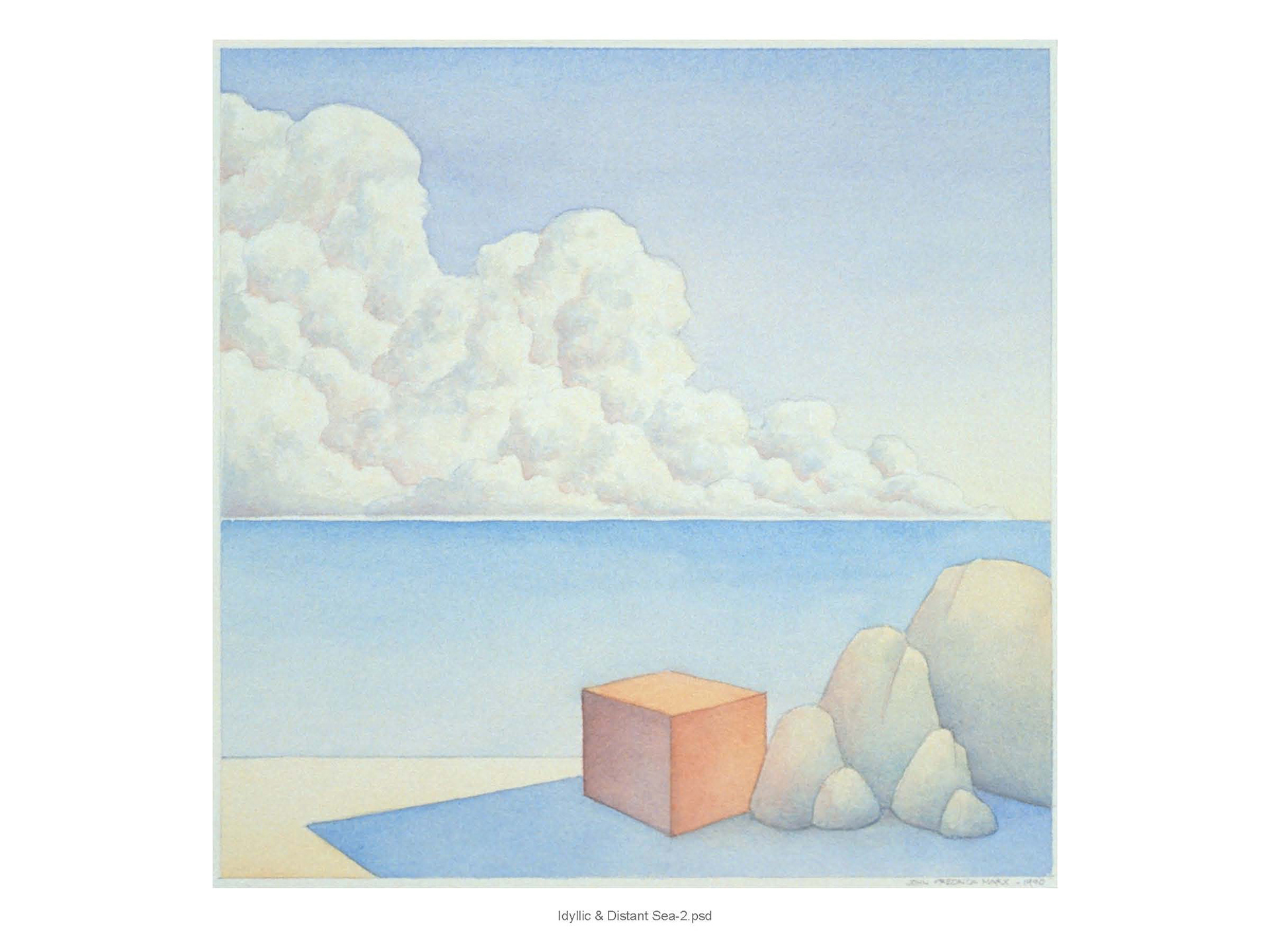 Drawing by Gabor Gallov as featured in ArchDaily piece 31/01/2020 link below