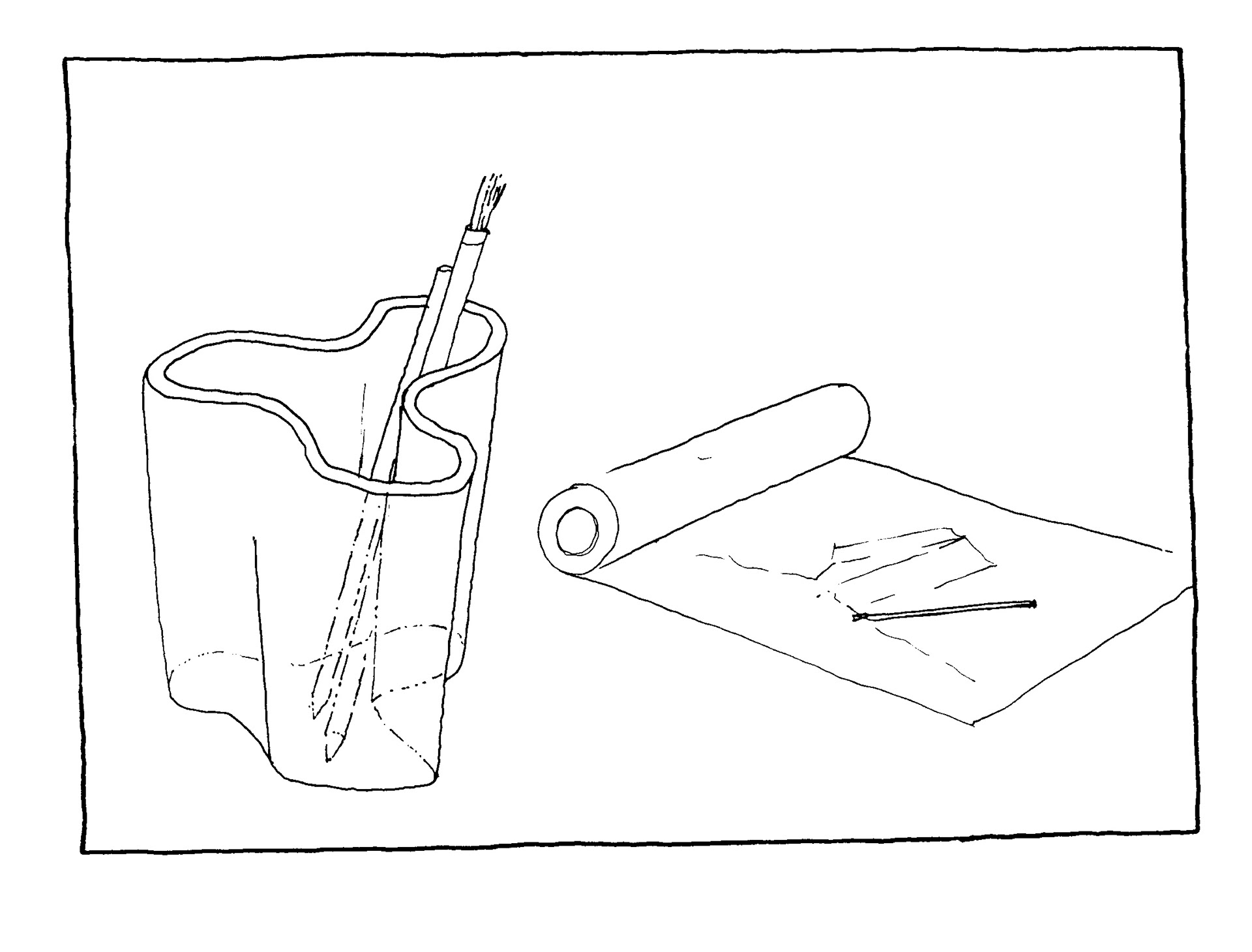 Below is m

y weekly blog on architecture, art, identity, PR and presentation. It has just started so these are the very first posts! To receive post alerts by mail, please subscribe using button below. 
Instead of my usual posts, I am asking readers of this blog to let me know if they are engaging in any interesting communications tasks during this isolation period that get around the challenges of social distancing.  
I am writing a piece for the World Architecture Festival on this very topic and am particularly interested in anyone supporting freelance writers, graphic designers and photographers during this challenging time. 
So many practices rely heavily on freelance assistance of this type for enhancing their profile and right now this largely self-employed group will rely on the good will of architects to keep them going. 
Please get in touch via my contact page before Tuesday 14 April.

Blog posts will resume after Easter.
Home-working has added a new dimension to our work personas.  A dimension that until now was, for most, a private world of domesticity, but has over the past weeks become an extension of our more public life with colleagues.  Even home offices have largely remained like secret dens until this current crisis - but no longer.  
When video conferencing it's natural to be curious about the background of someone's screen.  The things they have in their homes and whether these fit in with how we may have imagined someone to be when not in the office.  The unexpected instruments and so forth.
And with VC, it's a bit like having guests over. I admit to tidying my home office more these days and ensuring our dog sofa isn't quite as crumpled as usual.  Saying that, I have no problem with our dogs lying on it in full view while I am on a video conference call. 
Watching the news you see interviewees too regularly broadcasting from their homes.  Even before this current crisis, I enjoyed seeing French writers and philosophers interviewed from home with their stylish studies covered in books and pictures and interesting objects trouvés.  A wonderful mix of old and new things that, like the home of an artist, relays a boho-chic intellectual quality.
When living in Venice for a short period, on my evening walks, I would admire Italian homes with this quality as visible through their lit windows. Their rooms appeared to have an unstudied feeling of a life well-led that emanated years of occupation, layered with idiosyncrasies and warmth of personality.  Perhaps during our new found reliance on VC, it is such a very humane quality that resonates so well on our screens and particularly so in an era of social distancing when we hunger for all the richness and peculiarities that make for life.  
When racing around there's little time for reverie. This happens more easily when confined to one place. For many and around the world, this will be in their homes at the moment. 
Last year, I happened to work on a book with San Francisco based architect, John Marx that is conducive to reverie. Published by Oro Editions (February 2020) it is called 
Études – The Poetry of Dreams + Other Fragments
and focusses on John Marx's beautiful watercolours. The book also features poems by John Marx, in addition to chapters about drawing, watercolour and Marx's works within in the context of American painting. These chapters are written by by Curator Owen Hopkins, Architect and writer Pierluigi Serraino, and myself.  Marx, too, has written a very personal essay about the notion of sharing meaning.
You can find out more about the title
here
but below are some of Marx's watercolours that are extremely conducive to dreaming and contemplating.  Some of the works show poignantly how solitude can be both soulful and poetic.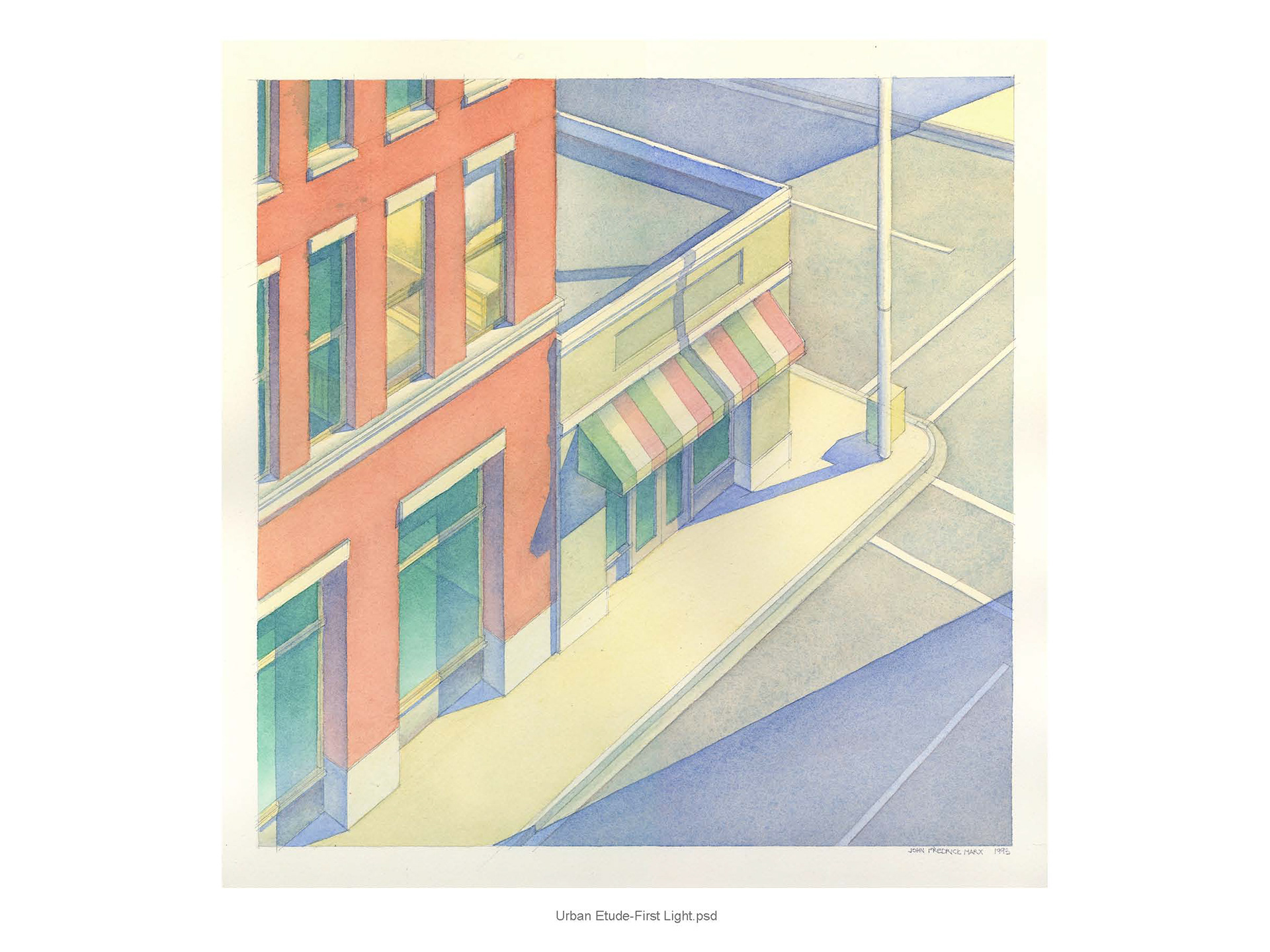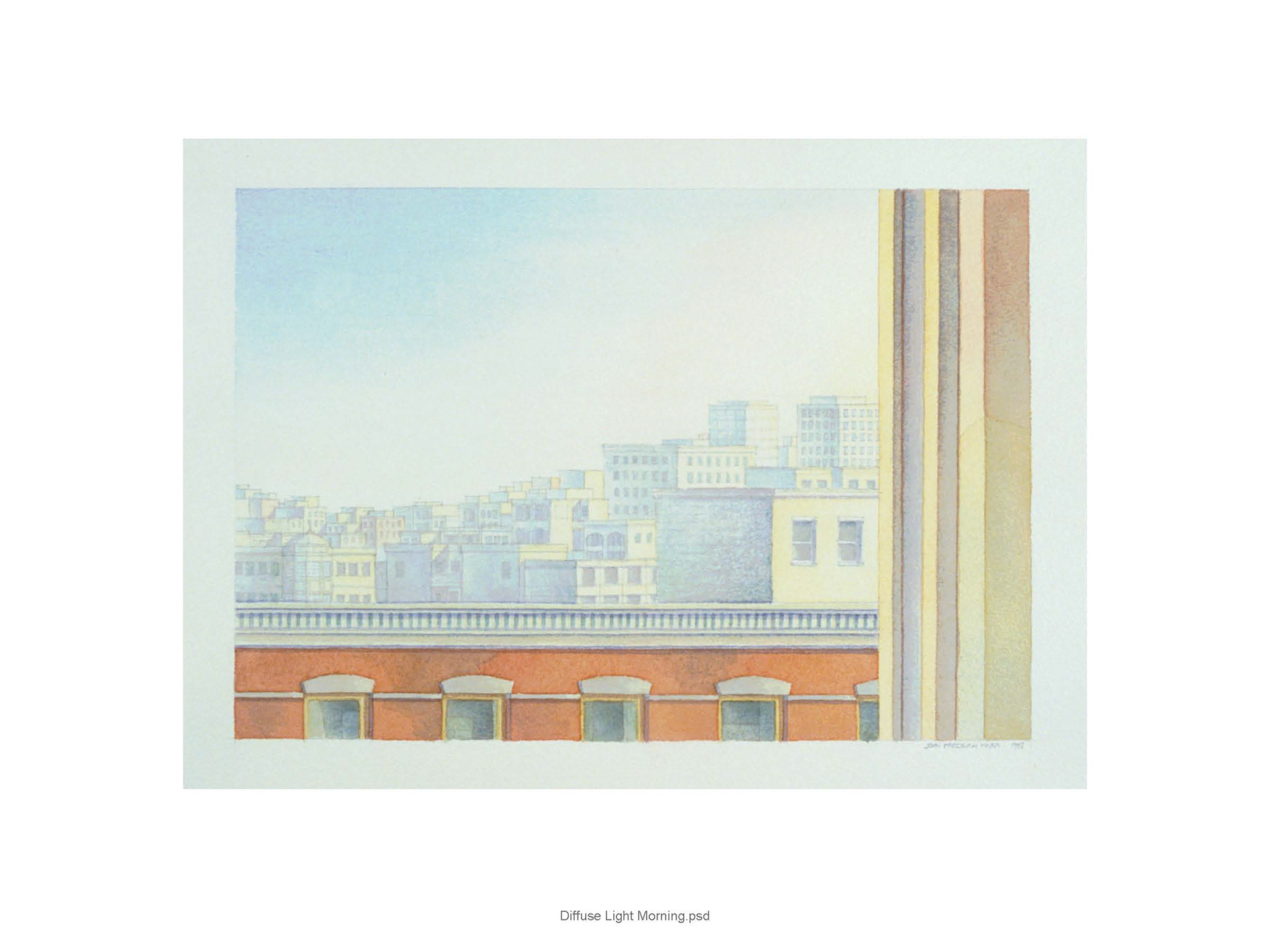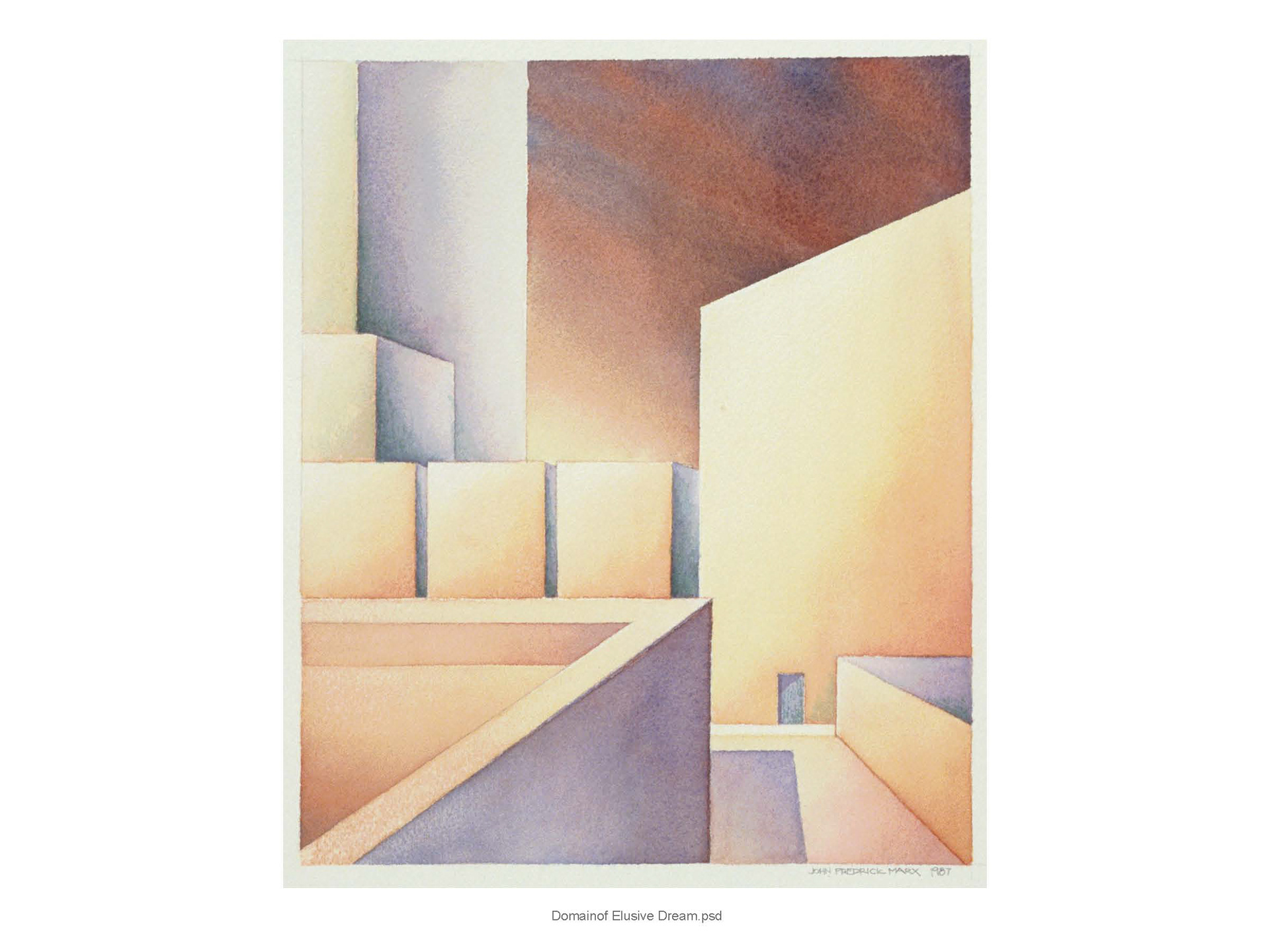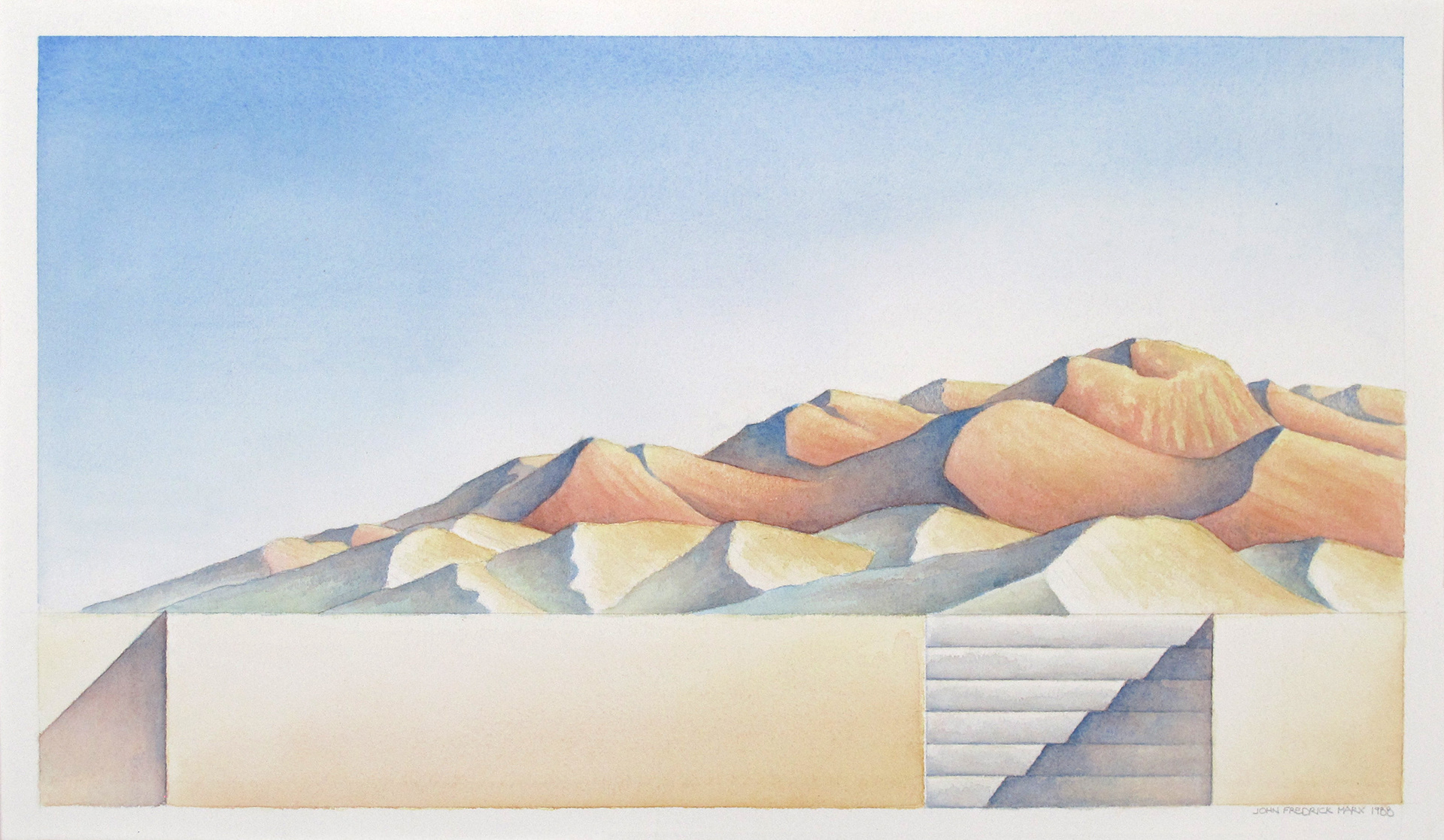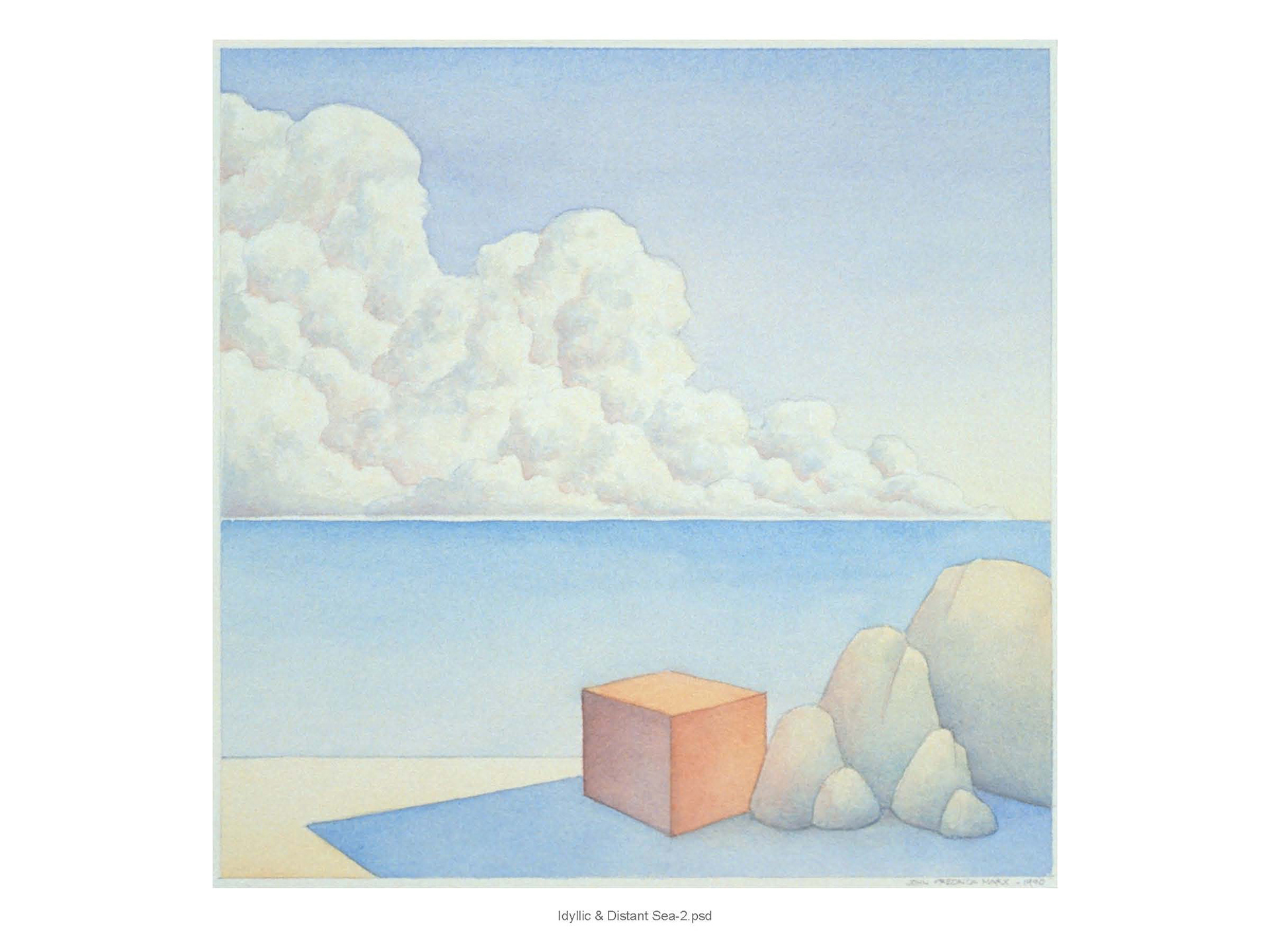 My earlier blog (below) touched on how the architectural profession might be better placed to inspire the general public in communicating what it does.  There have, of course, been many, many efforts to do this, some attempting wholly mainstream style approaches, like the
American Institute of Architects' Look Up campaign
 with ads aimed at major TV networks. This, in the context of exhibitions, publications, talks and other events like festivals, was quite a bold attempt to relay what architects do to mass audiences.  
Teaching at the AA yesterday, I encouraged students to think on imaginative ways in which they might position their studios to help architecture achieve a more prominent cultural standing as the fine arts or performing arts do.  
This led to asking a few critical questions.  Should architecture be promoted as art?  Opinions on this amongst students divided 50:50. There was some concern that if architecture is not seen as a business, it is not seen to address important issues relating, for example, to functionality. Yet architecture is unique as an art form in its all-embracing concern for the practical, cultural and wider social issues of its time. 
With the students, I talked about how architecture as a service could be made to appeal to clients.  Could, for instance, the experience of commissioning buildings be made more exciting?  One Part IIII student said, from experience, that an important thing in improving client relationships is to be very clear from the outset about what can be achieved within the existing constraints. Once this was out of the way, it enables the provision of a good service with a strong client rapport and mutual understanding.  
This in itself, though, does not address the need to whet appetites - something the fashion industry and also product designers are often very good at doing by being so inspirational in the packaging and presentation of their offer. The students debated the pros and cons of signature style studios versus an approach to design that avoids adopting a house style and the repercussions for either in expressing a practice's brand.
To end my talk, I used a favourite slide of mine with a quote from Mies van der Rohe,
"I hope you will understand that architecture has nothing to do with the inventions of forms. It is is not a playground for children old or young. Architecture is the real battleground of the spirit."   
This might well seem a curious "finale" for a talk on communicating architecture, but not so, if you believe that an essential and valuable aspect of promoting architecture is to convey something that lifts the spirit, moves and intrigues us and makes buildings feel especially relevant to our place in the world. 
Next week I am going to speak to Part III students at the Architectural Association about identity and communications in architecture.  I've given this talk several times over the years always changing and evolving it. 
Sometimes I decide you need a hands-on practical approach to the subject giving students the tools to understand different media platforms and how to prepare and pitch materials to get published and noticed.   Sometimes I opt for a more personal approach sharing with students my own experience of how different personality types - from media savvy luvvies to high priests of architecture and academia - can work to give their work exposure and position their studios' thinking. 
At one point I was particularly interested in how architects vary in their sense of wanting to be seen, depending on how they were brought up to view self-promotion. This has a great deal to do with not only how families and schools differ on giving children confidence, but in how extrovert tendencies are viewed from country to country.  For example, singing one's own praises, even today, is considered pretty tone deaf in my native Finland.
I am still thinking on my forthcoming talk, but I do know that architects as a profession must improve their ability to impart to the general pubic the value of what they do, for there is no doubt that the profession needs to regain its cultural standing.  My belief is that it is through inspiring people to better appreciate the art of architecture that we will secure a stronger future for the profession, but I want to ask the AA students how they understand this notion of art.  I'll let you know next week what I find out.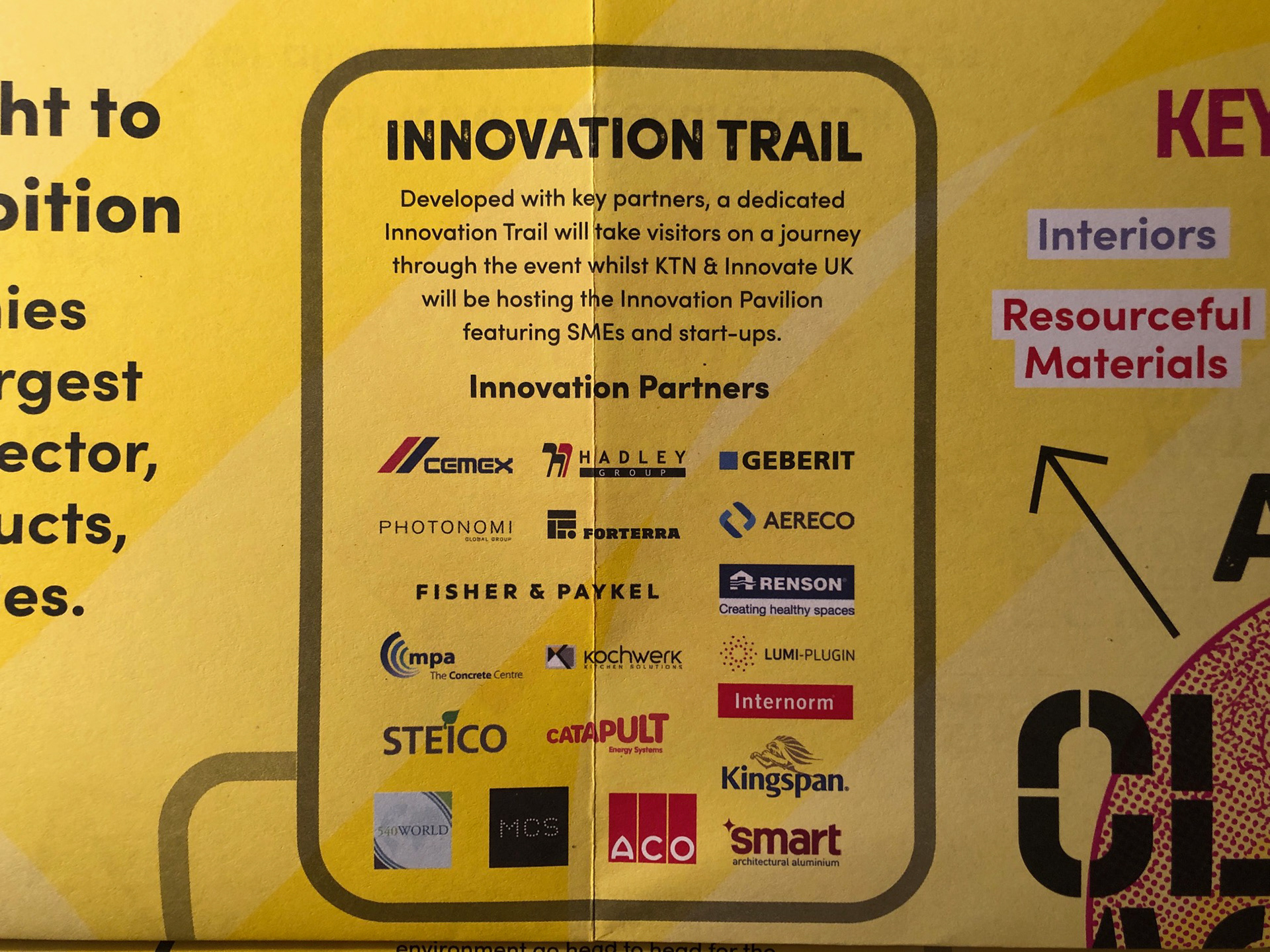 Is this a good look for architects? Their names are increasingly seen in a similar fashion out there....
Naomi Klein's book
No Logo
 has been described as the
anti-branding bible
. Brands aside, I am keen to think specifically on the notion of architectural practices using a logo or a distinct typeface - often bespoke - to portray who they are.  Opting for a unique looking typeface is by far the more common approach for architects for logo creation than having an emblematic graphic or pictorial visual to represent the practice. This is why talking about logos and identities can get confusing when referring to architects. 
So you will see, for example, many different versions of Helvetica - inspired names of practices acting as studio "logos".  Some will opt for futuristic lettering to imply innovation and some will use serif lettering, often to portray a legacy, but all the while relying on the typeface - rather than a symbol as found in a conventional logo like that of Lacoste - to do the work of expressing identity.
Once the branding craze started, architects' "practice-name-typefaces" really began to be used more like logos.  A craze of providing "logo-files" for the practices' identities at every opportunity and to external parties ensued. It has led to many unsightly lay-outs where practice names are found aligned not unlike those of Formula One or any other major sporting event's sponsors' hoardings.  Do we really want architectural documents, invitations, posters and presentations to look like the visual melee on the side of race tracks?
While watching a film this weekend, I thought how pleasing it is that in the credits the actors' names and those of other team members all appear in a singular font much as the names of artists would do in an exhibition catalogue. In the olden days, architects logo-like identity, i.e. the way their studio name appeared in their own materials, was restricted to their letterheads and marketing tools, like brochures. This makes sense and one wonders whether there is a need to go much beyond that except that in today's digital world marketing materials will naturally include architects' own websites and the social media accounts they hold.   
I'd much rather that in communication that does not come from the architect's own studio and in joint documents, in particular, that more restraint was used in terms of introducing loads of different typefaces and identities that end up looking like a list of corporate and bluechip sponsors. Or, the very tail end of a movie with the inevitable Dolby Stereos branding to finish the whole lot off!  Better in this sort of group context, to appear like a distinguished museum's wall of donors where names are carved in dignified lettering in a ruly fashion.
Blog post: 23 February 2020
Just back from a short break to Helsinki where I met up with family and friends.  Many conversations turned to the recent death of
Jörn Donner (1933-2020).  Perhaps best known for having produced Ingmar Bergman's Oscar-winning film Fanny and Alexander (1982), Donner had also worked on over fifty other films and authored a similar number of books in his lifetime.  He was active in Finnish politics serving in the Parliament as well as an MEP in Brussels and in the 90s he was appointed Finland's Consul General in Los Angeles.  Donner's opinions were sought on many issues by Finnish press and the public relished in his straight-talking, individualistic, bohemian manner.  His comments were in equal measure both worldly and provocative, particularly in Finland where his voice will be missed as that of an erudite non-conformist. 
In 2014, Donner stuck his neck out by challenging Helsinki's plans to build a Guggenheim Museum in the city centre.  He was one of the most staunch opponents of the Guggenheim project, although was joined by another internationally recognised cultural figure from Finland, architect and writer Juhani Pallasmaa.    Donner, like Pallasmaa, saw Guggenheim as a project focussed on tourism rather than the arts and he criticised it for "its supreme lack of imagination".  The costly commercial franchise-like implications of the Guggenheim proposals too grated Donner who said, "Instead of turning our rear-ends to this initiative, here we give a deep bow and happily wave it on from the City Hall terrace".  His damning conclusion was that those vouching for the Guggenheim represented "an insecure, provincial view of the world", quipping that a hundred reindeer would be an infinitely better suited destination magnet for Helsinki.
Donner lived a few blocks away from my father in central Helsinki's Kruununhaka.  He ate at the traditional Three Crowns restaurant (Kolme Kruunua), where my Finnish family get together regularly.  I always thought of him when I passed the building his family had built in the neighbourhood some 130 years ago.  I liked to imagine his sea view, his study and library.  Donner was the sort of person that made the city feel urban in a soulful way, giving it grit, glamour and gravitas. He was definitely an asset to Helsinki's genius loci.
Blog post: 16 February 2020
Award-winning and all that jazz
Earlier this week I attended a Negroni Talk session called "Awards What Are They Good For?"  The event is timely as the number of architecture awards and award categories per award is dazzling.  Many practices have long annual spreadsheets to keep on top of them and spend a considerable amount of time updating these with deadlines and deleting redundant awards of years past.  There is definitely a fear of missing out about this. 
The organisers of this Negroni Talk, chaired by Peter Smisek, Associate Editor Icon Magazine, rightly ask, "Why do practices put themselves through this lottery? Meeting the award criteria and putting projects forward for consideration is often costly and the benefits can often be hard to see."
To address this at the event,  Architect Rab Bennetts spoke of how awards had given him confidence in his own abilities early on in his career.  Similarly, Dezeen Founder, Marcus Fairs, explained how his publication's awards are important in giving young practices a platform to show off their wares.  Writer Veronica Simpson highlighted the need for awards to reward sustainable design and designs that last the test of time by, for example, by revisiting buildings a few years after they have been used.  Fliss Childs, Head of Communications at Fielden Clegg Bradley Studios, emphasised the need to be highly selective when choosing the awards a practice enters. This is, of course, a good way of getting around the feeling of having to dutifully try and cover all the bases for the many awards potentially applicable for any given project.
The other week saw Paul Finch wrote in the Architects' Journal that "Awards should be about excellence, not messages."  He says, "The moment you start arguing that a project should be premiated because it is by a small practice /woman /BAME/ LBGTQ+ architect is simultaneously insulting to the 'minority' and destructive of the whole idea of architectural excellence, a discipline that can be discussed and assessed in its own terms."; He adds. "This is not to say that there should not be awards for those minority groups – for example, the awards for women architects supported by the AJ and Architectural Review, but they are parallel awards to the mainstream, not rivals."
Awards do, however, by their very structure send a message. Those focussing on sector based submission processes reinforce the notion of specialisation through building type - even if unwittingly so. The Royal Institute of British Architects (RIBA) Awards process gets around this through its regional approach. An international version of the RIBA award would be interesting.  Best building in Finland competes with best building in UK and so forth. A bit like the Olympics and offering a global overview of architecture and what's revered where.
Having worked on The Architecture Drawing Prize since its inception three years ago, I am very glad to see how with our group of co-curators – Make Architects, Sir John Soane's Museum and the World Architecture Festival (WAF) – we have created a real platform for discourse on drawing in addition to the awards programme that is, of course, the core activity of the Prize.  This platform runs throughout the year and beyond the awards submission period.  It includes an exhibition of entrants' drawings at WAF and at Sir John Soane's Museum as well as an imaginative social media campaign. There is also a blog post series with regular takes on architectural drawing from different perspectives written by experts on the subject.  To my mind, not unlike the Festival component at WAF, The Architecture Drawing Prize is about generating editorial or curatorial content.  In this way, some awards schemes are becoming more akin to a publication – a considered and critical place to both generate debate and celebrate work.  And The Architecture Drawing Prize even has a sponsor: William Hare Group.
The awards discussion is not a new one.  Some seven years ago The Architecture Foundation hosted its own "And The Winner Is… Awards What Are They Good For?..."  The billing of the event already then was redolent with cynicism, "Dinner networking extravaganzas, or important platforms for the celebration of architectural quality?..." (and so it goes on).
Whether we want to by cynical or not about awards, there's still no reason for awards ceremonies and dinners to be bling affairs or ones that make architects cringe. In fact, it is curious that architectural awards as a whole seem to be incorporating standard corporate business models in their approach to event organisation when they could be much more sophisticated and original. So there's definitely room to create award ceremonies that architects want to attend and feel they can identify with as guests and I for one would welcome this pleasurable task of the "award makeover".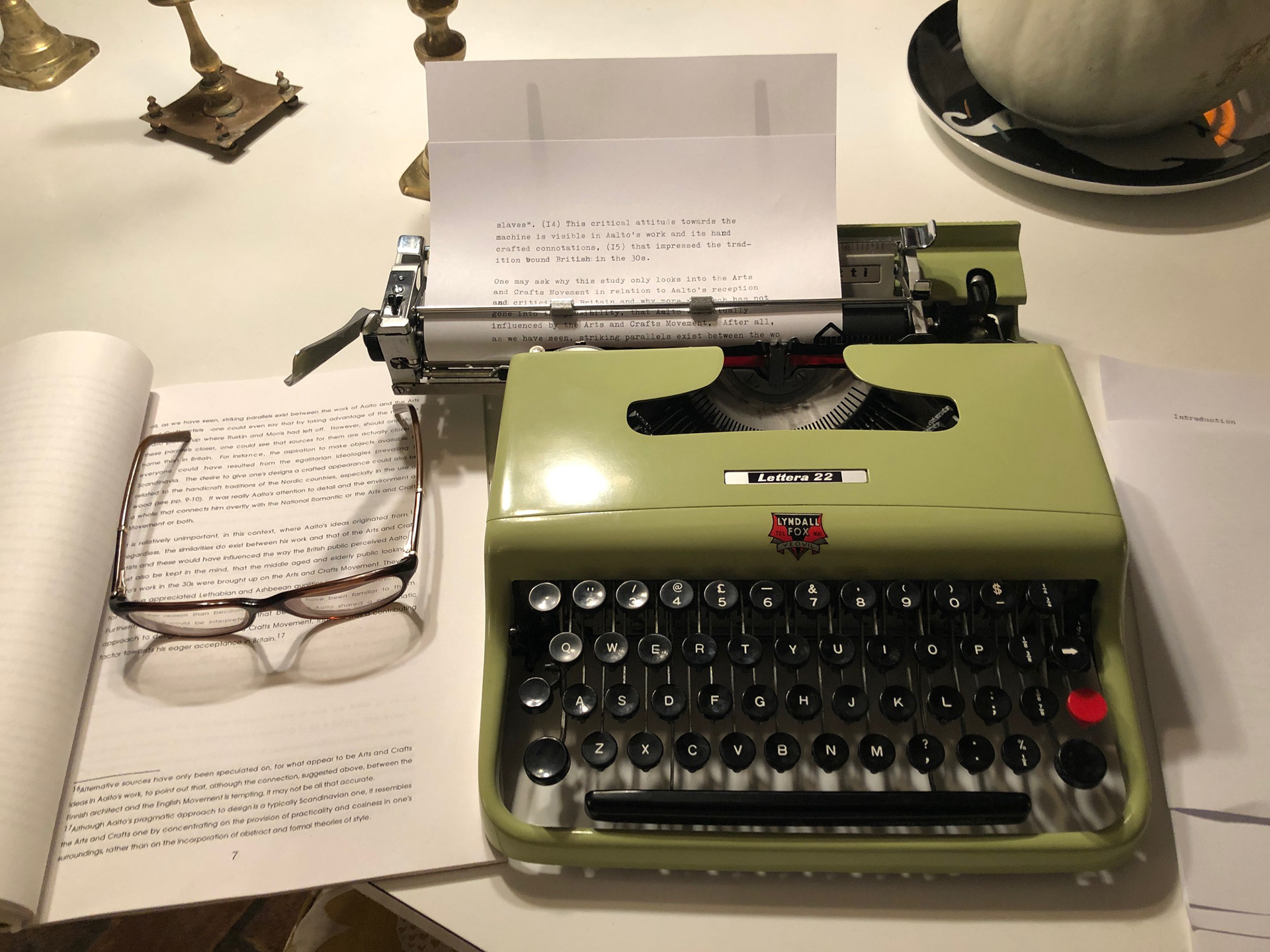 Blog post: 9 February 2020
A few days ago I started to practice typing on our old Olivetti Lettera 22 (above). My mission is to type up my MA Dissertation on how Alvar Aalto's work was received from the 1930s onwards in the UK.  The irony is that the dissertation was the first piece of work that I handed in at the University of Edinburgh using an Apple Macintosh. This was back in 1992/93.  
Why retype something already written you may well ask? The project is to publish my dissertation together with Gabor Gallov who is illustrating it with his drawings (example below).  I tried scanning the bound dissertation and using Optical Character Recognition (OCR) software to get around no longer having a digital copy of the text.  This was very unsatisfactory especially as scanning bound documents is a chore.   
Instead the notion of typing the text with an Olivetti seems a fun challenge.  It gives the old machine a new lease of life and gives the text its own life too.  So endearing is typewriter copy these days that it feels handmade in a way that a word processor or PC couldn't come close to achieving.  As with a pen or pencil, you can take pleasure in making letters lighter or heavier depending on pressure applied to a key.  The sound of a typewriter has a richness that digital tools cannot replicate. Its deeper and in some strange way much more human, not unlike the heartbeat sound of a steam engine or an old fashioned aircraft. 
As I started to type, I soon realised how much I'd forgotten since the days of using my dad's old typewriter, a Rheinmetall (at University, as an undergrad, essays were hand written).  The positioning of the paper, the manual replication of margins from one page to the next, the careful return so that you start each sentence aligned to the margin. The unforgivingness of typos, of course, and the pinging sound to warn you that your line is coming to an end.  
As I type away, I play a game of how many characters I can squeeze in before my space is up. Sometimes I lose.  The result, a word that ends abruptly. Sometimes I win by daring to try and just making it with the final character finding its place on the last possible spot.   But I reckon the rule is six characters or spaces after a ping.  Another game is to think on whether you're willing to leave a long gap at the end of a line for a long word, to spare splitting it with a hyphen, and having its second half trail below. Sometimes the splitting of words is very awkward and, occasionally, happily natural. Think top-lit, hand-made, or birch-wood etc.
Typing like this again feels like you're really making something. The words also enter your mind more forcefully. Perhaps the fact that you're less likely to want to deal with messy and time consuming changes, you commit yourself to the words more. As you write they are more instilled in your mind. It's perhaps a bit like knitting especially and especially so when you're copying out something already written, giving it another form, enjoying the pattern of letters and words. Typing Le Corbusier's name and that of Frank Lloyd Wright so that they sit comfortably on the line felt oddly satisfying.  
Drawing by Gabor Gallov as featured in ArchDaily piece 31/01/2020 link below
Blog post: 2 February 2020
Communication is About More Than Selling
Today, instead of writing a blog post, I am including a link here to an article that
 ArchDaily
published on Friday in which I reflect on 'communication versus selling':
Blog post: 26 January 2020
Architects barely use this word: fashion.  Yet there is no doubt the architectural profession thrives on fashion.  Anyone interested in architectural media or awards will know that there are architects who are fashionable and those who are less so.  Just as there are ways of designing buildings that appeal to current tastes and fads. Architects resist this notion because, like a classic suit, their best buildings should stand be timeless.  Often design - be it couture or product-led or even buildings - does stand the test of time if it somehow expresses the zeitgeist of its era in an original and accomplished manner. It becomes representative of a period.  A design that achieves this quality can lead to a style that is given shape to by a posse of "followers" who
derive
their own approach from a work (or group of works) with this highly emblematic status.  Perhaps it is this notion of
derivation
that makes that of style so unappealing, like a poor cousin to the masterpiece that to led to a movement that has its own stylistic characteristics.
I thought how much this comment applies not just to the rag trade but to buildings that are experienced all over the world through a flick of a mouse. Never mind that buildings, unlike clothes, are slow to actually make and heavy projects involving teams and complimentary areas of expertise and real resources, the way they are consumed - largely through photographs -  on completion is not unlike a new season's garment - here today gone tomorrow.   
This reality affects how buildings are conceived with their anticipated reception in mind; and rather than deny the role style and fashion have in the process, it's better to begin to understand this.  I think the architectural profession would, in fact, do itself a favour to acquaint itself with some of the pros and cons of the public appeal dynamics of the fashion industry.  Saying that, Filipowski wisely answered a question on the importance of how designers should cultivate their voices. He says, it is,
"To enrol somebody in their minds and the heart of what they're doing, is how I would put it.
"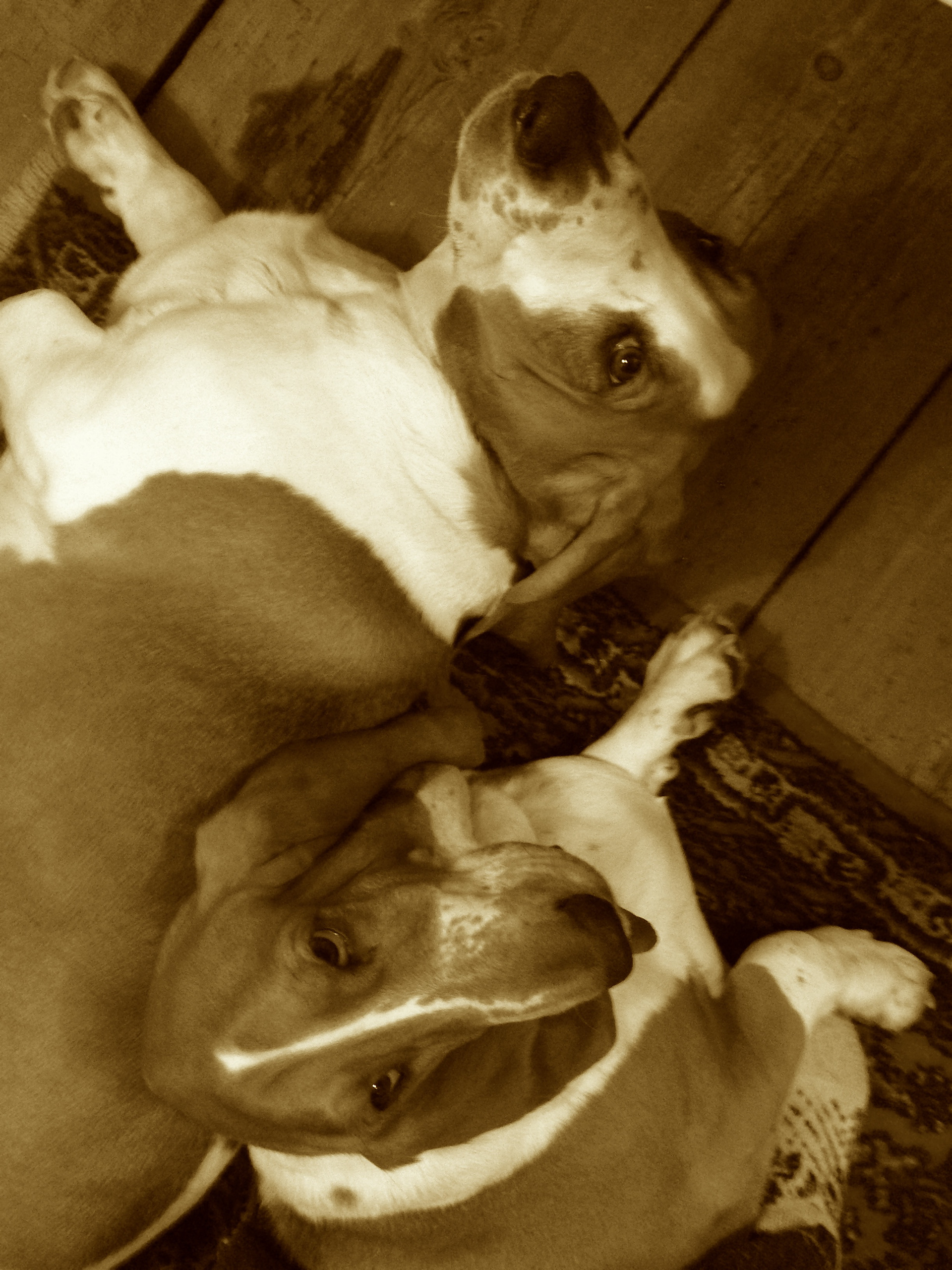 Blog post: 19 January 2020
Strategy. There's a word that is used an awful lot these days and that is full of promise.  A bit like branding, strategy is seen as the key to getting ahead. Yet many bright people are strategic (or "on brand") every day without giving it much thought. It's second nature to them and to not be strategic would be both daft and wasteful of one's resources. Others, of course, are not naturals at strategic or analytic thinking. 
When pitching for a new commission, a promotion or press coverage or what have you, there is, however, no single strategy that works.  My two Basset hounds, Margot and Colette, attest to this. Almost any dog will know how to look appealing and wag its tail to get its owner's attention for a treat or walk or a seat on the sofa. Yet, observing Margot and Colette, it is clear that in addition to standard dog charm, they have their own distinct way of pitching for a free lunch and some out of the ordinary gourmet experiences.
Margot is not afraid to be assertive. You could say she is a bit pushy.  She never hesitates but seizes her opportunity and goes as far as to steal from the table. She is shameless. So shameless that you admire her for not giving anything a second thought. Unabashed she is. Colette, her sister, is far too grand and poised for such behaviour. She waits patiently and her approach is soft and considerate.  Her head gently placed against your chair. She never rises on her hind legs to take what is not hers and always receives everything with such grace that is a pleasure to give it to her.  Her success in pitching is based on her delightful manner and patience whereas Margot's revolves around her watchful eye and persistence. 
How very human they sound.  I like to think that Margot would be successful in the world because it's clear she means business and is slightly ruthless even to get where she wants to be.  Watch out.  As for Colette, she has such confidence and charisma that the world is bound to be hers without trying as hard. How unfair, yet they both have the sense to opt for a strategy that is wholly in keeping with who they are as dogs and such unadulterated authenticity goes a long way.
Blog post: 10 January 2020
Data light diet as New Year's Resolution
I hate it when I realise that I have just inadvertently e-mailed someone a bigger file than is required.  In the old days, this was just equated to being a nuisance, especially as download times were slower and many relied on "dial up" (...say what?). 
Huge files can still slow us down and make us cross as we try and get our computers to pick apace with our thinking and desire to get things done ever faster.  There are a whole number of tasks that can be achieved during mind numbingly long downloads (or applications opening or rebooting, or whatever it is that they do).
There is another aspect to not taking care of how many mega bites one consumes a day.  It is, of course, environmental.  The more we send and store, the more bandwidth and data centre "space" we occupy.  Ben Clifford puts this in very simple terms in his article for the Medium when he compares the environmental impact of the 'global information and communication technology (ICT) ecosystem' to that of the aviation industry in terms of its carbon footprint. 
Early on, Michael Beaven, Engineering and Sustainability Lead, at Arup Associates was coming up with efficient ways to reduce the energy consumption of data centres and others have caught onto the idea which is great.  We should nonetheless stop thinking of all the messaging and Cloud storage as an infinite resource in the way we once viewed water and instead see it as a resource with its own environmental implications. As Clifford writes, "Every time we perform simple daily actions like browsing a website, sending and receiving email, using an app on our phones, saving a file to our cloud drives or searching Google, data gets transferred between our devices and the servers that the websites or software are hosted on." Those servers are creating so much excess heat as they are powered to make all this happen that Beaven and others are looking into harnessing this for use in other buildings.
Meanwhile, in his article Ben Clifford gives us useful tips on how to clean up our act and use data with moderation. Something that those of us working in architectural PR will no doubt appreciate when thinking on the number of images we share weekly with our clients and the press.
Here are some common digital data gorging practices for architectural communicators to start avoiding in the 20s. 
1.     Don't send images to anyone if you don't want them to use them – it serves no purpose, creates confusion, wastes time, and ensures the image you don't think is right is the one that gets published.
2.    Don't share massive files of photos if this is not absolutely necessary as the recipient will not thank you for it and may well reduce their quality if they do not downsize them properly
3.    Don't dump all your files on someone just because you're busy (here you go!)
4.    Don't pitch by sending large attachments
5.    Don't send attachments when a link will do the job as well or better
And here are some DOs to avoid the data gluttony:
6.    Do be selective when sending out digital campaigns – it's good practice anyway
7.    Do get rid of redundant e-mail addresses and avoid hassle of bounce backs
8.    Do continue to be a bit frugal when you take photographs even if you don't have to buy film as it's unlikely you will delete photos you don't use from the Cloud etc
9.    Saying that, do clean up your photo library – it's been on my to do list for ages
10.  Do look into environmentally-focused web hosting – I just learned about it so will ask my IT consultant Justin Lomas
Blog post: 8 December
 2019
As a final post in 2019, I thought I'd reflect on a theme that has lingered at the back of my mind for years. Visiting Rome this past Summer focussed my mind on it in an unexpected way on a visit to the Doria Pamphilj Gallery located at the bottom of Via del Corso towards the Vittorio Emanuele II monument (or "The Typewriter" as some call it). 
Despite its accessible location, the Gallery is a calm and quiet place to visit and feels off the beaten track.  In July this year, there were well under twenty tourists the day we went.  The collection includes works by Raphael, Titian, Caravaggio,

Bruegel the Elder, Velazquez, including his celebrated portrait of Pope Innocent X.
I had last been to the Doria Pamphilj as an undergraduate.  To my relief not much had changed.  To my surprise Pope Innocent X was casually in his room as restoration works progressed next door (photo). 
The overall feeling of the Doria Pamphilj is happily understated and intimate, making you feel as though you were entering a house open to visitors when the owners were on holiday.  On Tripadvisor there are those who disapprove of such a behind the scenes feeling and others who value the personality and intimacy it introduces in our experience of an important collection. (The Doria Pamphilj collection is said to rival that of the Vatican).
Yet so few visitors at the Doria Pamphilj! Could it be that visitors do not want to pay for something that has not been deliberately processed and packaged for them as if "to merit the entry fee".  And does even a behind the scenes experience need to be actively branded and promoted as such so that it feels worthwhile? 
No matter, one of the main pleasures of the Doria Pamphilj is that sense of discovery it affords by shying away from overtly didactic displays and marketing led museography. In fact, in today's homogeneous museum culture that has given all too many collections a kiss of death making everything formulaic, the Doria Pamphili stands out as a characterful museum that is engaging and worth keeping just as it is and as an important example of an entirely valid way of enjoying museums - one that is individualistic, personable and in many ways liberating from the must-see mentality.
So the Doria Pamphilj spoke to me as I have for a while now been resistant to the way so much of cultural promotion has been made slick in the name of accessibility, as though there was only one and often rather crudely commercial method for reaching the public. It is this myth that informs many travel blogs and guide books leading the public to think that there is not much to see somewhere if the place hasn't been redone with the usual trappings of a gift shop, restaurant, and all the bumpf that goes with these. 
The theme I refer to at the start of this post and that I have increased confidence in is the raw material as it were, the works of art that is, and having the confidence in letting these speak for themselves rather than relying on the guff of strapline-led thinking or the "been there done that approach" that actually commodifies art. 
In the face of this the Doria Pamphilj provides something different, as  Erdem Moralioglu said in the Financial Times , "It's full of these beautiful secrets that make you want to come back again and again."  And, of course, designers, architects and artists are expert at spotting places that are genuinely conducive to creativity by allowing the freedom for one's mind to be inspired as well as to wander.  The best of them are, of course, also expert in creating these be they new museums, extensions of existing ones or exhibition displays.
Next post in early January 2020.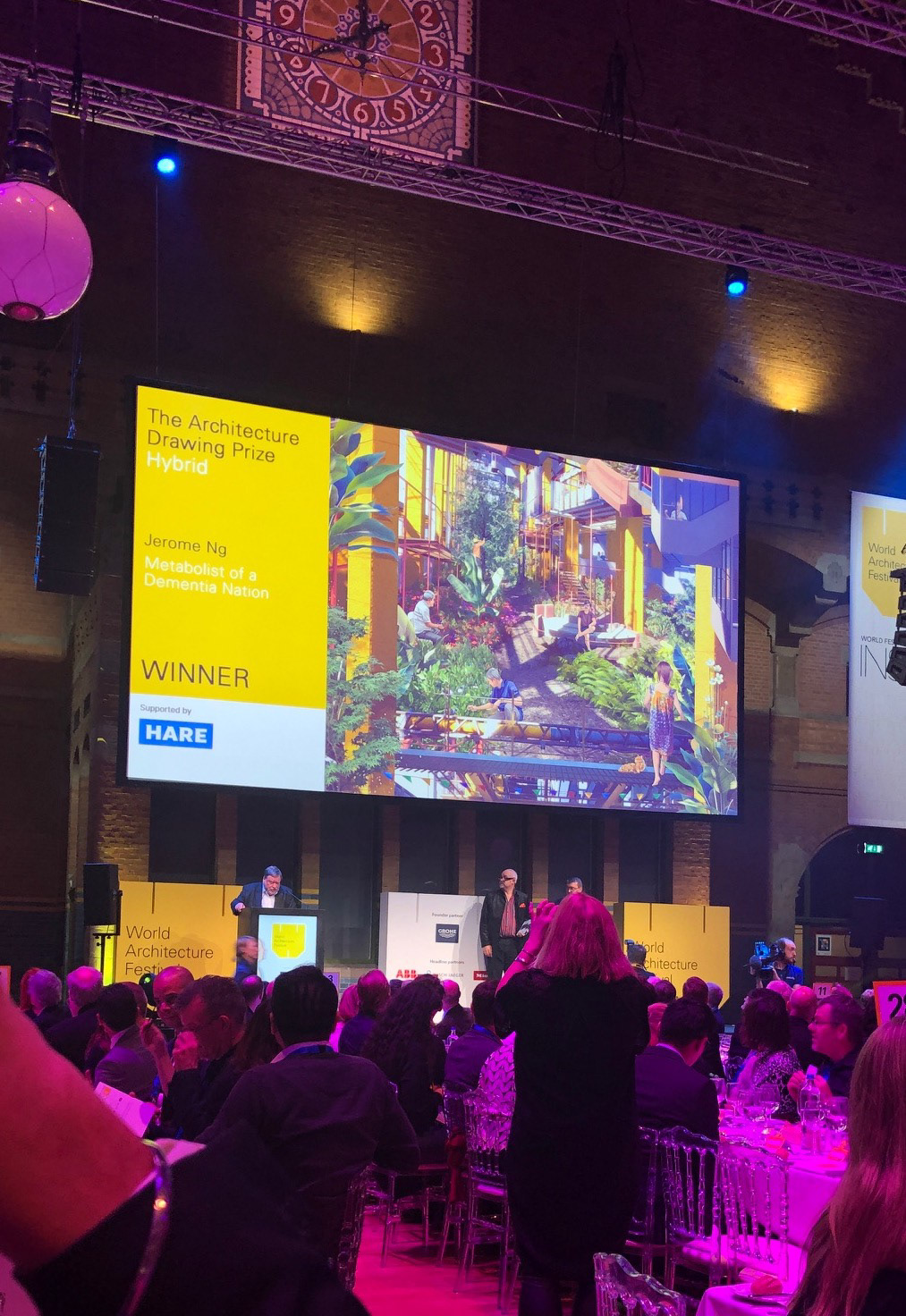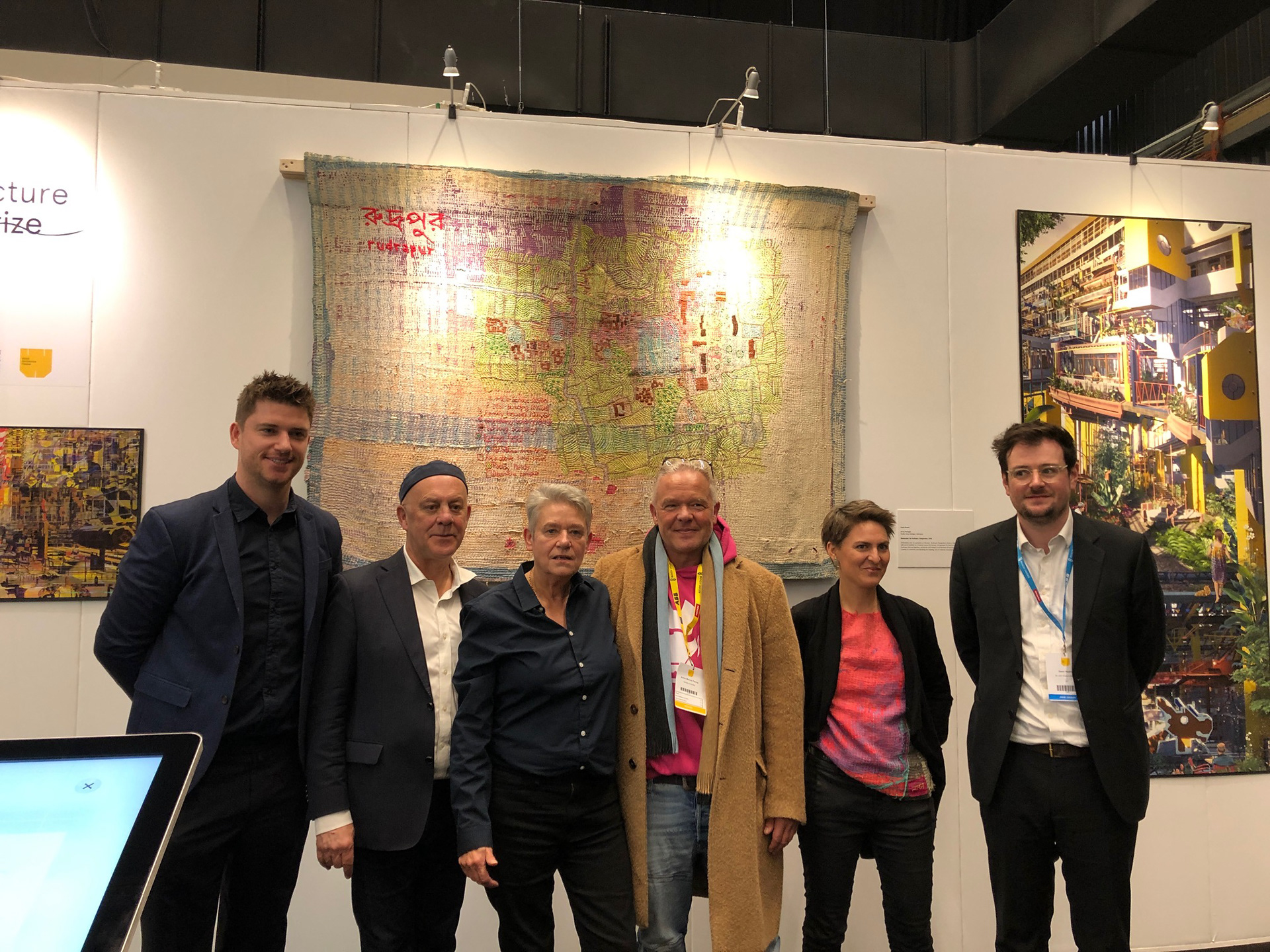 Snaps from WAF 1) Gala Dinner with The Architecture Drawing Prize Hybrid Category Winner, Jerome Ng's, drawing on the screen 2) The Architecture Drawing Prize stand with Anton Markus Pasing's drawing displayed 3) Standing in front of Anna Heringer's textile (left to right): Gavin Mullan, Architect, Make Architects; Artist Ben Langlands; Artist Nikki Bell; Anton Markus Pasing, The Overall and Digital Category Architecture Drawing Prize Winner; Anna Heringer, The Hand Drawn Category Architecture Drawing Prize Winner and Owen Hopkins, Curator, Sir John Soane's Museum
Blog post: 8 December
 2019
In Amsterdam again this year, the World Architecture Festival (WAF) took place 4-6 December.  An unusually convivial gathering considering the some 2000 delegates who take part from around the world.  At the welcome drinks, I talked to architects who had travelled from New Zealand and Australia, and attended the Festival with clients from San Francisco, Paris, Helsinki, Leiden and London.
Many were impressed at the Festival's genuinely international appeal and reach and some thought more should be made of this in terms of bringing it to everyone's attention.  At the Gala dinner I discussed this with artist Ben Langlands who suggested that WAF include the place of origin of the practices shortlisted for awards when these are displayed on the vast award ceremony screen at the Festival finale event.
The plethora of stimuli at WAF offers with over 500 live presentations by architects and the Festival's other events, including The Architecture Drawing Prize, give a wide snapshot of what's going on in architecture today.
This year's Drawing Prize Category Winners alone demonstrate a richness of approach not only in their techniques that range from a sophisticated use of digital modelling techniques by Anton Markus Pasing to stitching a drawing by hand as Anna Heringer has done with the women of Rudrapur in Bangladesh. 
Pasing's and Heringer's works will be shown again, together with the Hybrid Category winner Jerome Ng's drawing, as well as all the other commended Architecture Drawing Prize entries at an exhibition curated by Owen Hopkins at Sir John Soane's Museum running from 15 January and until 16 February 2020.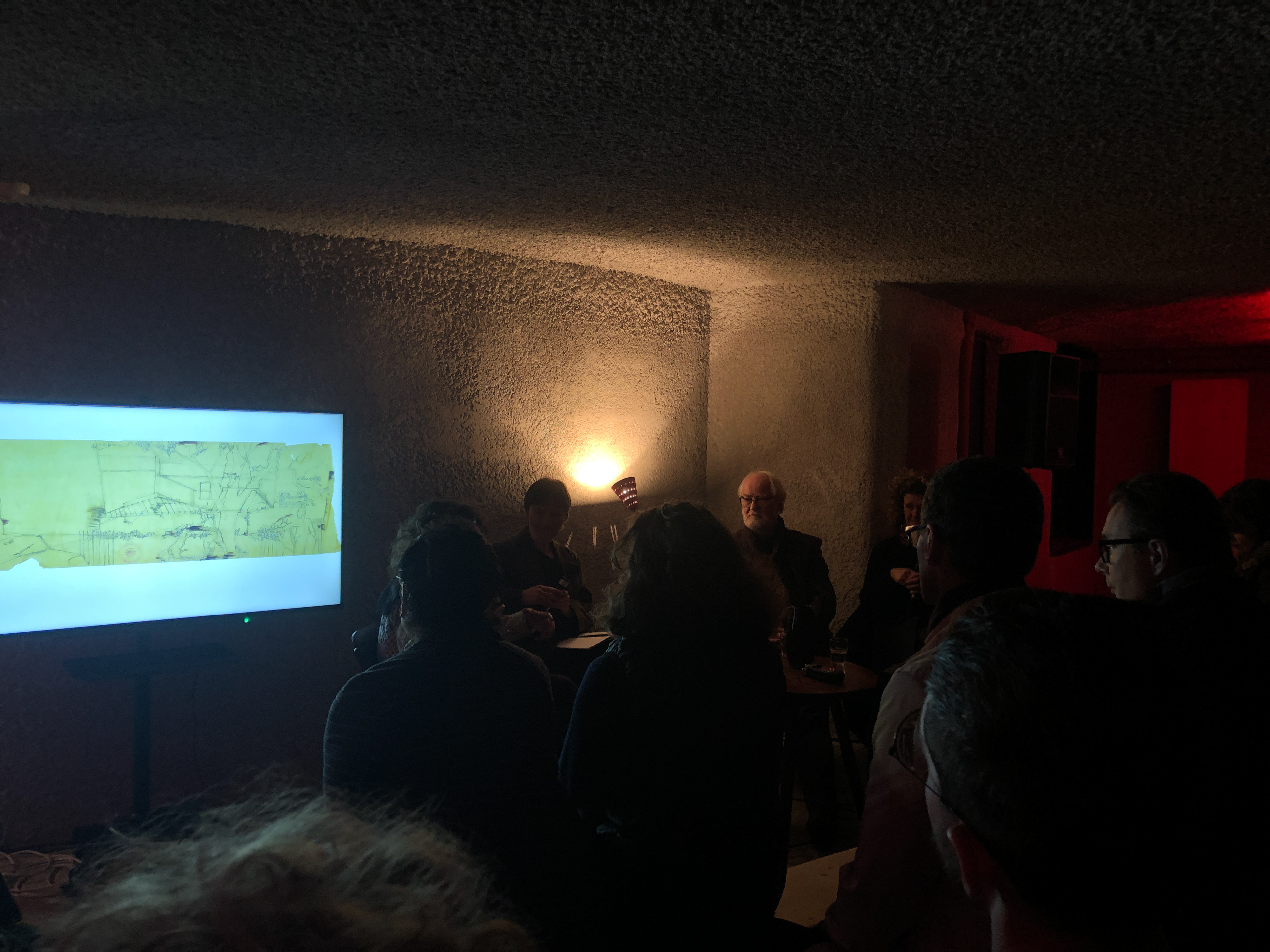 Tuesday 26 November 2019, From the "cave" at Walmer Yard
Blog post: 1 December
 2019
Making Sense with Pallasmaa & Co
Earlier this week Juhani Pallasmaa made his way from Finland via Turkey to join a panel discussion at Walmer Yard with photographer
Hélène
 Binet and architect Fenella Collinridge.  The discussion chaired by writer and curator Vicky Richardson centred on the senses which is the theme of this Autumn's events series at Walmer Yard: a group of houses designed by Peter Salter and Fenella Collinridge in West London and home to The Baylight Foundation.  Set up by architect and developer Crispin Kelly, the Foundation offers students and others a chance to experience the houses first hand and engage in the thinking behind their design through a varied series of events. (Next week Ian Ritchie is speaking on
The Idiot Brain
by Dean Burnett.)
The event with Pallasmaa, Binet and Collinridge was animated with Richardson engaging the panel in a discussion about perception and senses. The role of intellect versus intuition in the context of senses was discussed. The way we record things now through use of social media, like Instagram, sometimes replacing the need to store experiences in one's memory and thereby changing how we are present in the moment.  
Pallasmaa was focussed on the notion of inhabiting space rather than objectifying it. He spoke about not just seeing architecture as a thing outside ourselves, but instead viewing it as frame for the world, a way being in the world echoing Merleau-Ponty's thinking on art as a way of understanding.  It was clear that Pallasmaa's deep  appreciation of Binet's photography is based on her way of inhabiting buildings and spaces through her camera. Collinridge described how when photographing Walmer Yard, Binet sat on the bench designed by the architects in order to "to take it in", and only after this did she proceed to capture it with her lens.
During the talk audience participation was encouraged thanks to having an exceptionally engaging chair who worked the panel and the floor, supported by having Walmer Yard's unusual events space as her backdrop: a garage with a low ceiling that was likened by Richardson to a night-club or cave.  Indeed it felt a secret place for revolutionary ideas and particularly so in the depths of West London's Holland Park.   
Binet was asked why her photos do not include people.  She explained beautifully how in her work she does not want the viewer to be distracted by people but instead to focus on, for example, the stair with all the associations one has of stairs, the memory of these, and allow this to lead to a more poetic interpretation of the image. In some ways, one makes oneself present in Binet's photography not unlike when appreciating a sublime painting that plays on the existential.
Throughout the discussion there was an interesting juxtaposition of experience versus information and the self versus the object.  The notion of the rather factual hero image of a building, the classic PR shot that says it all, was shunned away from in favour of portraying buildings in a way that heightens how we actually see them in glimpses using our peripheral vision. 
Pallasmaa was keen to emphasise how our way of perceiving things continues to change and how, through innovations like the print press and now digitalisation, our way of coming to terms with the world focuses our senses of perception evermore, leading to our inability to relate to our surroundings as we probably did back when hearing, taste, and feeling through touching were more paramount to our very survival. No doubt the way we understand what we see has changed too, once it became second nature for us to experience something on the pages of a book or a screen -- and when these became primary sources of how we comprehend the world often giving us a poor appreciation, for example, of the scale or materiality of a building.
A lot of ground was covered over the evening, and from a communication perspective it was interesting to note that the talk ended with the question 'what is architecture'?  Pallasmaa stressed that teaching architecture is not something that is applied to you, like a set of instructions you might master to operate, but it is about a way of unlocking what is already there.  Thinking about it like this, it is not surprising when he refers to architecture not as a noun but as verb and even goes as far as to say that each building is an architect's confession.  This made me consider the role of unlearning systems that seem to creep into so much of what we do - even in communication - and that all too often dehumanise the actual thing that should advocate mutual understanding and empathy, even warmth and trust between people.
The talk at Walmer Yard took place on Tuesday 26 November 2019 and was organised in collaboration with Architectural Design (AD) and in partnership with Arup.
Juhani Pallasmaa, Vicky Richardson, Crispin Kelly and Ian Ritchie are all contributors to the November – December 2019 issue of AD on "The Identity of The Architect" published by Wiley.  Both Pallasmaa's and Kelly's essays feature photos by
Hélène
 Binet. For snippets from the publication in run up to Christmas follow iloniemilaura
Blog post: 24 
November 2019
Have you noticed how there no longer seems to be any differentiation between these two words: "artwork" and "work of art".  I like to go on about this at home, much as my father used to bemoan how people used the word "democratic" when they actually just meant to say "egalitarian".   The first, of course, refers to a political system that often aspires to be egalitarian, but really all that democratic means is that we all get a say or vote. In other words that people have the power - whether this results in a more egalitarian society is another matter.  But back to "artwork" and "work of art".  The former brings to my mind ad agencies on Madison Avenue and the latter museums like the Louvre or the Uffizi or commercial galleries such as those on Cork Street in London.  Yet highly acclaimed works by all sort of artists are now referred to as "artworks" in newspapers and elsewhere; and even when referring to works of art created by renowned artists like Antony Gormley or Pablo Picasso or the Renaissance hero, Leonardo da Vinci.   
Yet interestingly a building could be described as a "work of art", but not really as an "artwork".  So wherein lies the subtle yet possibly significant distinction in meaning?  Could it just be that "artwork" is way to attempt a more "democratic" or should I say "egalitarian" way of referring to "works of art".  As it is clear that many feel "work of art" goes hand-in-hand with a provenance - a suggestion of some agreed standard.  The work of an artist or perhaps an outstanding building by an architect.  "Artwork" is definitely less prescriptive and, of course, a commonly used graphic design term to describe a layout or illustration, for example, and thereby perhaps more inclusive?
Thinking on words in this way is fun  - if for no other reason than to speculate about potential changes in how we like to describe and think about things. The meaning we want to give something or remove from it. Yet, if this is done without consideration and reflection, the meaning becomes muddled which is what bothers me. Thankfully, in French the word for "work of art" is very clear "œuvre d'art" or in Finnish "taideteos" 
and
also so distinct from how "artwork" is defined in these languages that there is no room for confusion. A bit of Iloniemi family pedantry perhaps, but couldn't resist as blog posts seem good places to release a few bees from one's bonnet. 
Blog post: 17 November 2019
Venice - Wading through Water
I enjoy seeing painterly images of Venice on twitter and follow a large number of accounts that feed me these regularly.  Most focus on Venice today while some share tantalising pictures of the city in the heyday of photographer Gianni Berengo Gardin (born 1930) or other memorable historic photos.  My particular favourites are Peggy Guggenheim in her palazzo or gondola.  Sometimes you get tweets with wonderful glimpses of day-to-day scenes of ordinary people going about their business, catching vaporettos with their shopping, going to school and feeding birds. This past week, most photos of Venice have, of course, been those of a city struggling under the acqua alta. 
I think of the times when briefly living Venice, shops and services just got on with cleaning up after water from the lagoon would fill their premises.  Somehow it was just accepted as an inconvenient fact of life and many Venetians even brushed off any drama about it. I remember in February 2013 being in Venice and enjoying the snowfall as we made our way to a dinner party. As we sat around the table and talked and ate, the city was becoming fully covered in snow; but by the time we left, the snow was already melting and the water levels rising rapidly.  There were no water taxis available so we took a vaporetto as close to where we were staying as we could. When getting off, the water was so high that it was difficult to make out the landing deck. As we walked through small streets and passages of Dorsoduro the water was so high my husband had to carry our then nine year old daughter on his shoulders and my knee high winter boots were submerged.  At its worst, we were nearly waist high in icy water with the bridges connecting the fondamenti being our only relief until we made it back. This episode, one I will never forget, and recount as a tourist tale of adventure, was to Venetians not a particularly big deal. It is hard to imagine what this past week's deluge must have been like. Much worse, no doubt, than my experience, and bringing back memories of the devastation in 1966. 
Yet today's circumstance are different from those in the 60s . On social media and elsewhere you can find plentiful commentary about what has gone wrong. Climate change. Corruption.  The inability to complete the Mose flood defences. Many point the finger at corruption being at the root of this inadequacy. (I once read that in Italy corruption is like rain, something inevitable that just happens.) Moreover, we know that the the churning of the sea bed by the invasive passengers ships that sail through the lagoon do little to help a city built on wooden piles when the high water and winds wreck havoc on its structures. Venice is fragile, for sure - an almost ephemeral place. Perhaps this adds to its poetic appeal, but the reality is that Venice needs looking after much better than it has been to date. Its stones can live on even if against the odds like a symbol of the human and artistic will that first gave rise to La Serenissima. 
It is obviously a city at risk though and it is time UNESCO acknowledged this when listing endangered World Heritage sites. Interestingly, Francesco Bandarin, an architect, a Venetian and the former Director of UNESCO's World Heritage Centre (2000-2010) and Assistant Director-General for Culture UNESCO (2010-18) has just written in
The Art Newspaper
about how UNESCO might help,  
"The situation is at stalemate. Only Unesco would be able to help, by mobilising international engineering expertise, supporting the government's policy-making and monitoring the implementation of the project. Venice desperately needs a strong external stimulus.
Half a century ago, under the leadership of the French philosopher René Maheu, UNESCO rose to the challenge and promoted the international action necessary for the safeguarding of Venice and its lagoon. The time has come for UNESCO to stand up again to help ensure the protection of Venice for generations to come. This is not merely a national matter; the whole world has the right to know how and when Venice will be saved."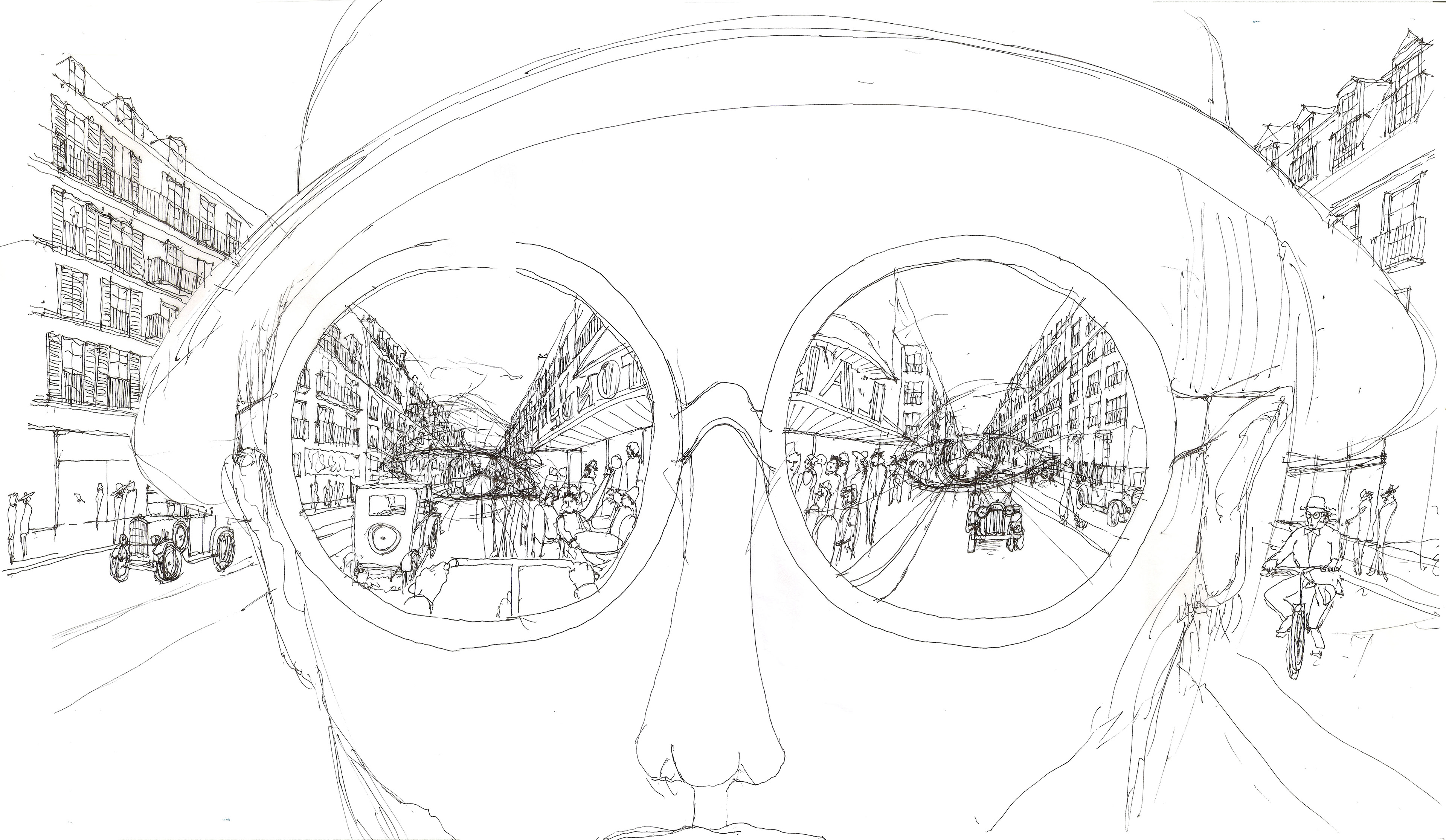 Drawing depicting Le Corbusier by Gabor Gallov for Jonathan Glancey's chapter in Nov-Dec issue of AD "The Man in The Concrete Mask"
Blog post: 10 November 2019
Jonathan Glancey's Corb Quiz 
You can still have a go, but the prize - a copy of the Nov-Dec issue of AD - went to a talented architect in Chicago.  (
It went to the first entrant to send over the correct answers. )
1. What was the name of Le Corbusier's Schnauzer (dog)?
2.  What happened to the dog after his death?
(a) He was buried in the garden of Villa Savoye
(b) He was stuffed and put on display in the Salvation Army hostel, Paris
(c) He was skinned and his fur bound Le Corbusier's copy of Don Quixote
3. What connects Le Corbusier to the Society of Jesus?
(a) He had thoughts of becoming a Catholic priest
(b) His Paris studio was in an abandoned Jesuit monastery
(c) He was planning to build a Jesuit training college in Lyon
4. What connects Le Corbusier and the Dominicans?
(a) St Dominic's persecution of the Cathars with whom Le Corbusier identified
(b) The Dominican Order's unrealised commission for a monastery composed of Domino houses
(c) The priory of Sainte Marie de La Tourette
5. Which famous building did Le Corbusier first describe as a "terrible machine"?
6. What was Le Corbusier's preferred make of car?
7. What style of architecture did Le Corbusier compare to "larva, toads and beasts which haunt the memories of the primordial world?"
8. Who said of the apartment Le Corbusier designed for her, "All this light is killing me, driving me crazy."
(c)  Yvonne Gallis, the architect's wife
9. When new, the critic Peter Blake described which Le Corbusier building as being like (the American boxer) "Joe Louis on tiptoe"?
(b) The General Assembly, Chandigarh
10. On hearing of the architect's death by drowning in 1965, who said, "Le Corbusier went down for the third time because of his reinforced concrete"?
Please e-mail you answers to laura(at)iloniemi(dot)co(dot)uk
Blog post: 3 November 2019
This week I received advance copies of the AD that I guest edited on "The Identity of The Architect".  In the introduction I refer to Alvar Aalto whose rise to the international stage I wrote my MA thesis on at the University of Edinburgh.  As a taster of the thesis to be published next year with illustrations by architect
Gabor Gallov
, I am including a short extract here.
"The Reception and Criticism of Alvar Aalto in Britain", MA Thesis in History of Art, University of Edinburgh, 1993
"In the Aalto Archives there is a paper entitled: 'Our Propaganda and Its Dissemination and Different Forms'. As English connections to help in spreading this propaganda widely the writer has listed: Morton P. Shand (useful for influence on critics, and writers, and the important Cambridge group); Bernard Shaw (whom they must pay a visit); H. de C. Hastings (useful as he knows all of England); and Mr Samuel Jr (personal friend who is also the son of a Viceroy and has a progressive attitude).  This would imply that there was, in fact, a very systematic effort behind Aalto' ascendancy; one that would guarantee foreign support. Penny Sparke, the author of
20th Century Design Furniture
believes this was the case.
She writes,
"...Finland realised the importance of expanding its markets internationally at an earlier stage than other Scandinavian countries.  Finland exported the work of its major furniture-architect, Alvar Aalto, to both Britain and the USA in the 30s, thereby establishing internationally what became to be known as the 'blond look', due to Aalto's use of birchwood."
Of Alvar Aalto, she claims,
"...From the beginning he had a shrewd awareness of the international market that lay beyond Finland."
The former statement holds true. However, the latter makes Aalto out to be an actively business-minded person, which he was not. Aalto was aloof in financial matters to such an extent that this was actually what could be seen as having kept Artek from expanding into a much larger enterprise. Aalto was not interested enough in money to pursue entrepreneurial projects. He found the capitalistic nature of the United States distasteful, which is why he decided against staying there after having worked at the Massachusetts Institute of Technology in 1947-48.
Aalto's mission as a propagandist was to make his own thoughts on the function of architecture in society known and to make Finland known abroad. This was because he strongly believed that Finland could show the way to a better world. 
Full thesis to be published with as a Biennale Book in 2020.
Blog post: 27 October 2019
Ever since I started working with architects in the mid-90s, I have enjoyed the ways in which practices pay homage to art historical books in the presentation of their work. I am thinking, for example, of introductions that use black and white reference images depicting architectural precedents or works of art.  Such photos are often small and live in the margins of text like aide-mémoires.  Publishing photos owned by collections or estates can, of course, be expensive due to hefty copyright fees and forgoing colour and large sized imagery is therefore sensible, but there is also a pleasurable quality to this type of subtle academic presentation.
Few architects today italicise names of buildings as art historians used to do, although many enjoy using italics for their captions or for subheadings in text, giving their graphics art historical flair. Similarly, the use of *** to indicate a section break in writing has its charm. (The name for this typographical symbol is dinkus.)  I especially enjoy seeing such devices used in architectural reports and occasionally on websites too.  They speak of comforting traditions and care and, like a well-laid table, feel polite and considerate and appealing to the eye.  Dividing longer texts so that they include a preface or foreword followed by an introduction, chapters and possibly a postscript has a similarly pleasant feel of a meal served just right, pacing the courses - from amuse-bouche to pudding and pie!
Other art historical conceits that I enjoy are the use of plates for images and Roman numerals whenever appropriate. It's also fun to see images referred to as fig. 1, fig. 2 and so forth but using footnotes when it's not absolutely necessary feels tiresome and pedantic. Saying that, I got kick out of using
Ibid
this summer and after a long hiatus of having no need to do this. Of course much of all this could be put down to a sort of snobbery, a showing off of education. Yet, I cannot help but think that art historically inspired presentation of this type even with its academic and possibly elitist connotations is smart and also a welcome counterpoint to the world of commercially aggressive graphics that simply comply with the latest trends and tastes.
​​​​​​​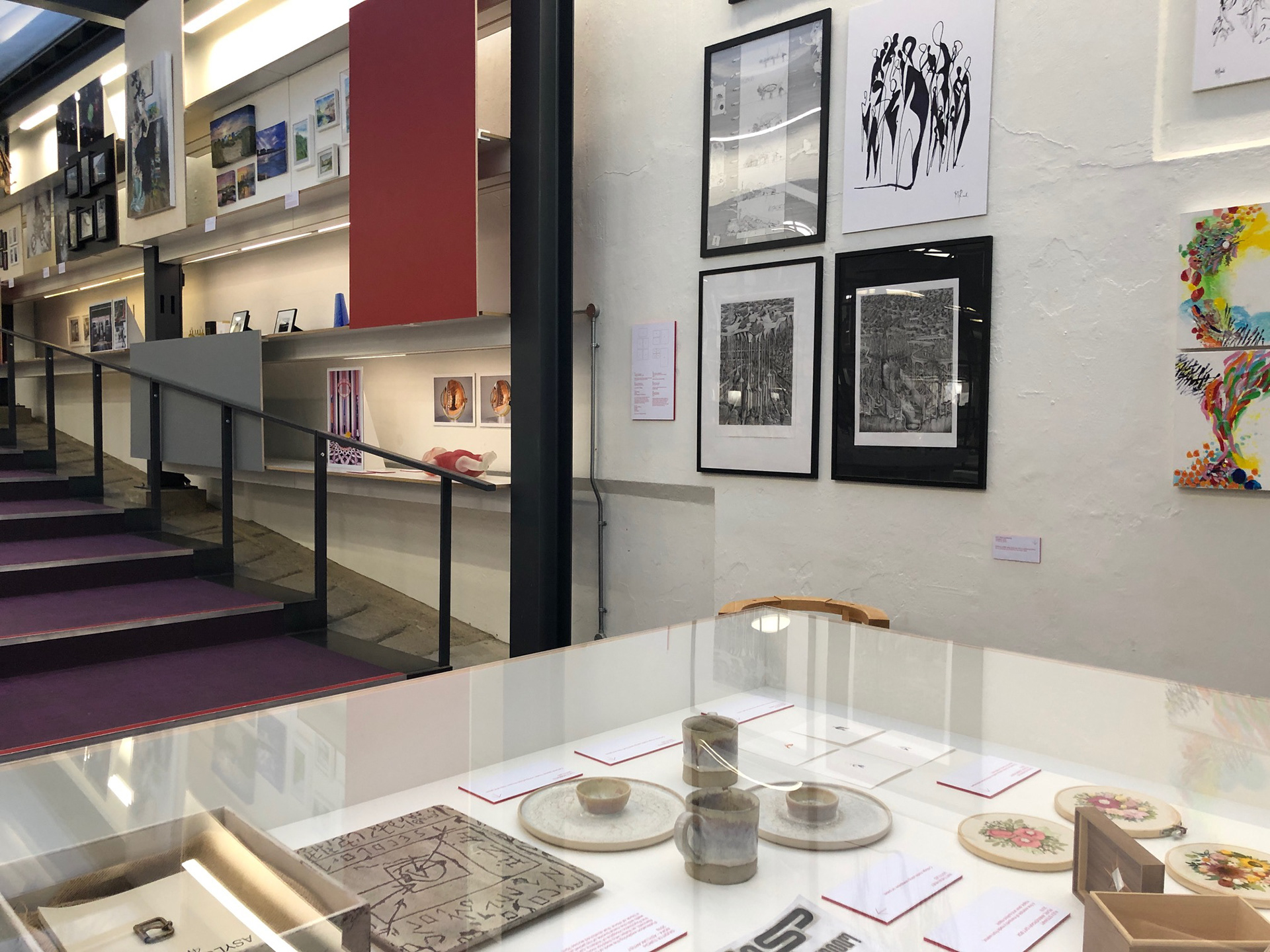 Blog post: 20 October 2019
Architecture and Creativity
​​​​​​​
This week I heard that at Tongji University architecture students have studio space after studio space dedicated to drawing, painting, including Chinese ink painting, and sculpture. Gifted students at the University are also awarded a grand tour type stipend to visit Europe and return home having made works of art inspired by their travels.  
As a student, I remember my future architect friends being similarly explorative working with oils and acrylics, charcoal and pastels painting portraits and still lifes and abstract works. I always understood this as a way to think, to train the eye, to free up one's mind, not unlike a long walk by the sea or through a city for a writer. 
Working with Make Architects this month on their current exhibition in their London studio, that marks the practice's 15th anniversary, has given me a glimpse into how "Makers" are using different media, ranging from photography to film to pottery and painting and drawing to sculpture and craft to express themselves and to interpret the world around them (my snaps above).   The exhibition called "Makers Create" has a great variety of work that when shown together is indicative of a creative energy that is moving. And especially so as the works are all made in Makers' free time. This in itself reminds me of how architecture is an art form and a calling or way of life. A way of being in the world.  
It is clear that many Makers both young and old-ish spend their time devouring the world and its sights with much of the same enthusiasm and awe that a student might. This sort of desire to record and remember events is transported into many of the works shown in the exhibition.  Some are, of course, more abstract and many reflective or joyous and equally others are critical or mysterious. The approaches also range from loose brushstrokes of abstract painting to painstaking detailed and intricate ink on paper drawings. In some you can read an architectural sensibility, a rigour or spatial awareness that suggests this. 
An architect friend of mine, a talented draughtsman who has worked in several of London's leading practices visited the exhibition and immediately remarked on how incredibly generous it is of Make to support their team's talents and personal projects in this way.  In addition to this, the exhibition is a great way to celebrate the profession and the wide set of skills that architects can bring to projects. It connects the profession with other forms of art in a positive way reinforcing the cultural value of this discipline. It makes you think that architects around the world could benefit from being more multi-faceted in how they communicate their abilities, sensibilities and interests.
Blog post: 13 October 2019
The Identity of The Architect - Some thoughts on Cultural Differences
Next month sees the publication of "The Identity of The Architect". The subject matter I chose to explore as Guest Editor of the November/ December 2019 issue of AD.  Identity is, of course, 
the
 topic of the moment with identity politics being discussed left, right and centre.  And themes around identity and architecture have been covered at many events and in numerous publications.  AD addressed the undermining of identity through globalisation in an issue guest edited by Paul Brislin with the telling title of 
"Human Experience and Place: Sustaining Identity".
"The Identity of The Architect" will instead focus on the architect as a practitioner and the studio that he or she establishes.  Having observed many architects over the years, I have become interested in the aspects of individuals' and studios' identities that enable effective communication and which extend the artistic experience of appreciating the work. More on that in AD, but in this blog, I wanted to touch on something that I did not have a chance to write about in "The Identity of The Architect": the cultural differences amongst architects and their identities depending on their country of origin. 
For example, in Finland I have often heard British architectural discourse described as exceedingly verbose.  There is a slight unease about the extent to which architects in the UK seem to go to explain and elaborate on their work.  Finns are, of course famously, parsimonious with their words. Nonetheless,  Finnish architects, perhaps much like their counterparts in Spain or Portugal, prefer an intuitive approach to architectural discourse.  
In Finland, much of the language used to describe buildings is the equivalent of plain English.  Straightforward descriptions of buildings using simple language can, however, be very poetic and this is a dimension I particularly enjoy when reading articulate Finnish architects' descriptions of their projects.  Alvar Aalto was a master at it. Juhani Pallasmaa, in Finnish, is also very down to earth to read, and even when discussing phenomenology and hermeneutics. 
In a city like London where architects from all over the world come together, it is easy to forget how distinctly British some aspects of architecture as practised here can seem to those visiting.  For example, listening to overseas journalists' reactions to the Stirling Prize this week, I was interested to hear how the choice of the winning project by Mikhail Riches was seen as representing a particularly British sentiment.  This had not occurred to me at all - and I then realised how by living here and despite being from Finland, I had lost touch with the perspective of being an observer from another country.  A good skill to practice when standing back and thinking on the cultural conditions that shape the way we are.  
Blog post: 2 October 2019 
Last month I was speaking as a visiting lecturer to Part III students at the Architectural Association (AA).  My talk was on architectural PR. Having given this talk regularly for some three years at the AA, I try and change it here and there to make it fresh, relevant to changes in how media do things and to how the profession is seen through the press, social media and other channels. 
I make of point of my talk being an opportunity to reflect on how the things we do to promote architecture affect the bigger picture of how the profession is seen. When doing this, I resist giving into telling students all the things they would need to do to get published, as this is available from many other sources. Instead, I want to use the time to focus students' minds in becoming critical and discriminating in how they choose to form and lift their profiles.  I want them to see their identity or "brand" as an extension of the creative energy that goes into their designs. 
This approach can baffle students perhaps because the expectation is that PR is vapid.  Another reason for this is that, more and more students around the world are now used to a pitching style of presenting work from their lecturers.  Many architects do this when they present projects.  They don't talk enough about the wider context, the ideas behind the work in any profound way, but pitch using buzz words and slogans.  Increasingly, public speakers, irrespective of their background or subject matter, do not differentiate pitching from lecturing or teaching. Yet university is the place where we should be more than consumers being spoon fed lines and instead be made to chew on things, to think critically and to think analytically.  
It is, of course, a welcome development to have more vocational components to Part III that address the new challenges emerging practices face, yet students should be wary of the ease of absorbing promotional talk and push themselves to think about  subjects such as PR in an intellectual rather purely practical way.  If you think about it, so many of the things that architects do for their PR, giving talks, exhibiting and publishing are what create the discourse around the profession and is seen as the intellectual face of the profession. PR, like it or not, is intertwined with the communication of the profession and how it is done determines the message.